Be in pole position for the Tour de France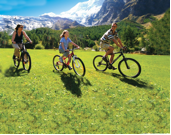 Alpine activity holiday specialist Esprit Holidays is offering cycling enthusiasts the opportunity to be in pole position when the Tour de France arrives into the French resort of Alpe d'Huez on 22nd July with an exclusive of the cyclists from the balconies and upper floors of the Chalet Hotel Mariandre.
The family hotel is located at the end of the 19th stage of the Tour de France, the culmination of 21 hair-pin bends and one of the most dramatic finishes of this world famous event. The exceptional location of the hotel also gives guests the opportunity to try out the 21 hair pins, either on their own bicycles for those driving down through France, or using bicycles available for hire through Esprit Holidays' activity programme.
A week's stay at Esprit's Chalet Hotel Mariandre from 16th – 23rd July, taking in the Tour de France, costs just £399 per adult, based on two sharing, and children (6 – 16 years) pay just £149pp, excluding travel. The price includes breakfast and five course dinners with wine and coffee. Family suites and inter-connecting rooms are available, many with a balcony, and Esprit Holidays offers a comprehensive programme of nanny and childcare, as well as a varied programme of family Alpine activities from rafting to mountain biking.
For more information, visit: espritfamilyadventures.com