Taking fine Greek cuisine to new heights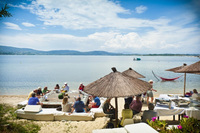 Mouth watering flavours and a unique alfresco experience: Tree-top dining at Ekies All Senses Resort.
Ekies All Senses Resort offers a range of fantastic restaurants run by award-winning chef Andrea Boulgaris, whose creative modern Greek cuisine is exciting, fresh and locally sourced. Dining at Ekies is completely flexible with an "eat anywhere-anytime' policy, this includes the incredible opportunity to dine privately up in Ekies' Tree-top Terrace. With panoramic views over the bay and beach, sat in twilight surrounded by the glow of lanterns and a wonderful choice of Greek delicacies served personally by Andrea, guests can have an unforgettable romantic dining experience in this unique setting.
Ekies All Senses Resort is a luxurious, award-winning property set in the beautiful Vourvourou Bay, in the Sithonia region of Halkidiki, with stunning views across to Mount Athos. This chic hotel, with just 64 rooms and suites, boasts a swanky vibe of contemporary design and is an idyllic destination to escape to. With a wealth of fresh, organic produce, this resort is bursting with delicious Mediterranean dishes.
Guests can dine privately on the beach, up in the tree-top terrace, tucked away in the gardens, or wherever they desire; prepared with personal touches, to ensure a perfect occasion. There is also the opportunity to dine at Kuzina or Koutali, both serving delicious fresh food highlighting the excellence of Greek cuisine.
Ekies is ideal for celebrating special moments, whether it be a romantic anniversary, birthday party, or the perfect spot you choose to propose.
Tree-top Private Dining offers a choice of 3 spectacular menus - Prices start from € 80 per person.
Rooms at Ekies All Senses Resort start from € 95 per room per night. The Resort is just 80 minutes from Macedonia Airport of Thessaloniki; it is an easy non-stop flight from the UK. ekies.gr.