Top tips for walking in the Bavarian Forest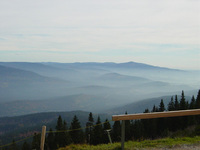 Having too many walks in an area is an unusual problem to have. But in the Bavarian Forest National Park and surrounding area, paths and former forest roads provide a sometimes bewildering breadth of choice for walkers in this part of Germany and the adjoining Czech Republic!
To help make sense of it all, Bavarian Forest Holidays have launched their own English language guides to walks in an area rarely covered in any detail by English language guide books. The walks can all be done from the village of Bayerisch Eisenstein without using a car and mostly without using public transport.
The walks have been divided into several different categories, to appeal to families with young children, older couples, serious speed walkers and those just wanting variety in their afternoon strolls. They cover destinations in Germany and Czech Republic. So far, the guides produced cover:
'Walks to Lunch' - covering 10 forest walks, each of up to 2 hours in a different direction, and focussed on a different lunch destination, with 2 companion walks to coffee and cakes (the famous German Kaffee und Kuchen)
'Buggy Friendly Walks' - a dozen different walks radiating from one starting point, all suitable for buggies or wheelchairs
'Winter Walks' - an easy guide to the forest paths cleared for walking through the winter wonderland
Short, Medium and Long Walks, catering for every level of fitness, from a gentle afternoon stroll to a full scale day long hike, to the mountains and ice age lakes of the green lung of Europe.
The medium altitude of the largest area of protected forested mountains in Central Europe makes this one of the most varied walking areas in Europe, with walks literally in every direction, unimpeded by rocky peaks. For the time being, this area is has incomparable peace and quiet, as it remains almost unknown to international tourism.
To introduce new guests to this unknown but beautiful walking area, Bavarian Forest Holidays is offering one week holidays at a special price: €495 per person sharing a bedroom in a one bedroom 5 star self catering apartment plus return train travel from London. The price includes extras such as free local transport, final cleaning charge, local restaurant vouchers and 1 day free bike hire. A limited number of places are available and bookings are subject to availability.
For further information, visit bavarian-forest-holidays.com.