New 'Lean Body and Fat Loss Retreat' in the Yorkshire Dales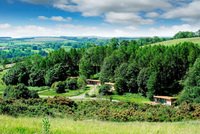 Kick-start your summer and get in beach-body shape with an intensive six-day 'Lean Body and Fat Loss Retreat' with elite trainer Brendan Chaplin in the stunning Yorkshire Dales, staying in the luxurious, award-winning Natural Retreats residences. Perfect for those looking for last-minute summer motivation from a top fitness professional; guests will burn fat, get fit, build muscle, tone and learn the secrets to lasting healthy living.
With over 10 years experience coaching Olympic athletes and training the Asylum Vale Tudo MMA Fight-team, professional trainer Brendan Chaplin will guide guests through six intense days of fitness classes and personalised training sessions. These will include partner drills, kettlebell workouts, core training and circuits using only the great outdoors. Previous trainees who have worked with Brendan have lost up to a stone of bodyfat in one week.
To help reach their fitness goal, each guest will be issued with a meal plan on arrival and all Natural Retreats residences will be stocked with fresh ingredients to use in preparing delicious and healthy meals. Guests will also have the chance to take part in cooking tutorials to help continue their healthy eating plan after the course ends.
Whilst participating in the 'Lean Body and Fat Loss Retreat' guests will stay in the luxurious Natural Retreats residences; each beautifully blending into the Yorkshire landscape with breath-taking views of the Swale Valley; perfect terrain for a week of challenging outdoor activities. With stylish furnishings, enviable luxury and comfort plus a state of the art kitchen and wood burning stove; there's no better place to lay your head for a night of well-deserved rest.
The retreat costs from £599 per person for bookings made before the 1st May (£699 from 1st May onwards) including all accommodation, training and meals. The six-day, five-night retreat begins on Monday 2nd July at 10am and will finish at 4pm on Saturday 7th July 2012.
For further details or to book, visit naturalretreats.com.