Kim Kardashian in the UK to launch QuickTrim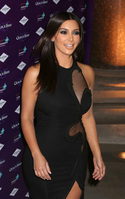 Kim Kardashian was in the UK last week to launch a new weight management product, QuickTrim.
On Friday 18th May, Rowlands hosted a VIP event at the St Pancras Renaissance Hotel in London which was attended by Kim Kardashian, her brother Rob and her celebrity PR friend, Jonathan Cheban as well as press, competition winners and representatives from pharmaceutical companies including Rowlands, Phoenix, Optislim, Windmill Health Products and Vitaquest. There were 50 competition winners who had been given the opportunity to attend the event when they purchased a QuickTrim product.
On Saturday 19th May, Rowlands hosted a public appearance at Westfield Shopping Centre in London where Kim was introduced to the stage by Mike Johnson, Marketing Manager, Rowlands Pharmacy and she was then able to meet with dozens of eager fans who got their picture taken with her.
Kenny Black, Managing Director, Rowlands Pharmacy, said, "We were delighted to welcome Kim Kardashian to the UK to celebrate the launch of QuickTrim for what resulted in two very successful and enjoyable events. Rowlands Pharmacy is a company committed to community healthcare and, as such, we continue to highlight and combat the dangers of obesity. Introducing QuickTrim to our weight management offering has allowed us to reach a new audience and raise awareness of the necessity of a change of lifestyle in order to lead a healthy life at a healthy weight."
Kim Kardashian's QuickTrim Essentials Kit is a seven-day programme that starts with a two-day cleanse followed by five days of meal replacement shakes to aid weight loss.
QuickTrim was first launched in America in September 2009 and is the leading weight loss brand in the US currently sold through 60,000 outlets. QuickTrim was released in Australia during 2011 and is now available in the UK exclusively through Rowlands Pharmacy and at quicktrim.eu.
Both QuickTrim events were captured by the film crew from Keeping up with the Kardashians and all involved signed disclaimers to appear on the show so watch this space!
For further information about QuickTrim, visit quicktrim.eu.
For further information about Rowlands Pharmacy, visit rowlandspharmacy.co.uk.