The Apprentice star toasts Carden's new restaurant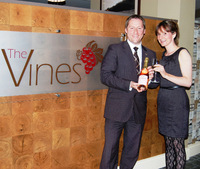 A star of the latest series of The Apprentice attended the official launch event for Chester's newest restaurant.
Entrepreneur Jenna Whittingham toasted the opening of The Vines restaurant at De Vere Carden Park, near Chester, with a glass of English sparkling wine – as she happily brushed away the 'demons' that had led to her downfall on the BBC1 programme.
Beauty salon owner Jenna, who attended the wine-tasting and culinary launch event with her dad Alan and his partner Mandy, has fallen back in love with English wine after trying a glass of Carden Old Gold, the vintage produced from the grapes of Carden Park's very own vineyard.
Her final task before being fired from the show by Lord Sugar in week nine had been to create a brand awareness campaign to promote the home grown beverage – but her internet commercial failed to impress the TV tycoon and she was sent home.
The 25-year-old, from Lathom, in Lancashire, who owns two branches of Beauty and The Boutique, in Penwortham near Preston and Wrightington near Wigan, said: "I may not have enjoyed my first experience with English sparkling wine on The Apprentice, but it's certainly been a wonderful experience to sample some more at Carden Park along with some delicious food in The Vines. It's a fabulous place to dine and we'll certainly be returning in the future."
The Vines at Carden Park is inspired by the onsite vineyard and boasts a menu of traditional British fayre made with locally sourced ingredients.
Hamish Ferguson, general manager at Carden Park, said: "We've created a fresh and relaxed new dining experience at the heart of the hotel, taking our cue from our onsite vineyard, which typifies our desire to serve local produce where possible including our home-grown vintage.
"We were delighted to welcome Jenna and her family to the hotel as one of a group of VIP guests on our official launch evening."
Guests, who included some of Carden's corporate partners from Marketing Cheshire, Chester.com and Taste Cheshire, were served a mouth-watering three-course dinner created by executive head chef Graham Tinsley. They also sampled different wines with each course, carefully selected by South African Franschhoek Cellar wine maker Richard Duckitt, who explained to diners how each variety was created and selected to complement each dish.
Graham said: "The Vines gives our guests and visitors a new dining option. It has an informal atmosphere, perfect for lunch in between spa treatments, a bite to eat before a meeting or for families. We've put a lot of thought into the balance of the menu, which features the very best of British ingredients."
Jenna was also given a tour of the vineyard to see firsthand where Carden's own wine originates.
The three-acre Carden Park vineyard grows a variety of grape called Seyval Blanc, which is particularly well suited to the British climate and produces a light, nutty and crisp sparkling wine. The most recent harvest in October also marked the vineyard's first ever harvest of red grapes of the Pinot Noir variety, which will be used to produce a rosé wine.
A new crop is harvested every year from around 4,000 vines on the south-west facing slopes. Carden Park plans to begin visitor tours of the vineyard later this year.
As well as The Vines new restaurant and vineyard, the four star De Vere Carden Park Hotel, Spa and Golf Club boasts 196 luxury bedrooms and suites, two championship golf courses, a further award-winning restaurant and a sumptuous spa, as well as a host of outdoor activities - all situated within a breathtaking 1,000 acre country estate.
To book a table at The Vines or find out more about facilities at Carden Park Hotel, Golf Resort and Spa visit cardenpark.co.uk.