Proving its great taste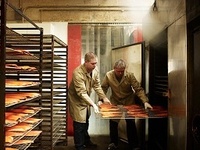 Less than one year since the brand launched, Chesil Smokery in Bridport, Dorset, has picked up two-star Gold awards for its Smoked Duck Breast and Smoked Chicken Breast and one-star Gold awards for its Hot Smoked Salmon, Smoked Kippers and Smoked Cod's Roe in the Great Taste Awards 2012, which is run by The Guild of Fine Food.
More than 8,500 products were entered into the 2012 Awards, which is the most rigorous awards scheme in the UK. Food and drink is blind-tasted by more than 350 food specialists, top chefs, restaurateurs, food critics, fine food retailers and cookery writers – every Great Taste Award is hard won.
Mark Firth, fishing enthusiast and managing director of Chesil Smokery, comments: "We launched in October 2011 and we were thrilled with the feedback we were receiving on our smoked produce so thought why not just go for it and see how we fared. To be successful on our first entry into a competition and win one and two-star gold awards is a dream come true. We work really hard at the smokery trialling new produce and making sure it not only tastes great but uses only the best meat, fish and poultry available to us."
Chesil Smokery will now be able to display the Great Taste Award logo on its packs – a mark that highlights quality and flavour on products that are considered faultless foods.
"To have the approval of such a significant group of food judges is fantastic and spurs us on to continue making our meat, fish and mixed smoked boxes from the hottest little smokery in the west," finished Mark.
The full range of delicious smoked fish, meat and poultry from the Chesil Smokery is available from chesilsmokery.com.