The Whisky Exchange Whisky Show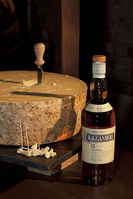 Taste some of the finest, rarest and most expensive whiskies and enjoy a range of food pairings.
Join whisky-lovers from the UK and around the world for a luxurious food and whisky tasting experience at this year's The Whisky Exchange Whisky Show. Taking place at Vinopolis, London's premium wine and spirit destination, the Show will run across the weekend of 6th-7th October 2012 from 12pm-6pm. Tickets are available to buy now.
Delicious food on offer will include a hearty two course whisky-inspired meal in the Show Brasserie, as well as cutting-edge ideas in the art of matching whisky with quality foods - showcasing some of the UK's most exclusive produce - in the Food & Whisky Pairing room. Renowned whisky and food writer Martine Nouet will also offer a series of food and whisky pairing masterclasses throughout the Show.
Last year's sell-out event saw over 1,000 guests attend over two days, and once again guests will have the chance to taste some of the world's finest whiskies, rarest single malts and once-in-a-lifetime Dream Drams - exclusive whiskies that can cost several thousand pounds a bottle. As part of this year's 'Meet the Maker' theme, visitors will also be able to enjoy informal Q&A sessions and mini masterclasses with the experts.
Sukhinder Singh, Show Director, said: "The Show is now in its fourth year and it continues to grow each year as people seek out opportunities to try the finest whiskies available and explore ideas for pairing with a range of delicious foods. It really is the pinnacle in the field of consumer whisky tasting events, with each successive year introducing innovative ideas which set it in a class apart from other whisky shows."
For more information about The Whisky Exchange Whisky Show visit whisky-show.com or to book tickets visit whisky-show.com/tickets.