Game season celebrated by Hillbrooke Hotels with dedicated menus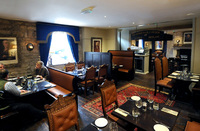 Game is the wild, natural and free range alternative to beef, pork, lamb and chicken and all six Hillbrooke hotels will be offering a dedicated 2012 winter game menu, from October 6, celebrating the best of the countryside's distinctive meats.
"My game menu allows the intense flavours of the meats to speak for themselves'', said Phil Kent, head chef of The Bull and Swan and The William Cecil at Stamford, which both sit on the Burghley Estate in Lincolnshire. "I have added in elements to complement the meats but I am very much of the mind that, as I know I have sourced the best quality products, I should allow them to speak for themselves with just a little help."
But it isn't just the taste that should attract you to the game menus, says Phil, wild game includes some of the healthiest meats available today.
"Wild game meats have health benefits when compared to meats from domesticated or farm-raised animals," said Phil. "The fact that wild game animals eat their natural diet and are very active in the wild contributes to the lower fat content of the meat. Additionally, eating greens in the wild contributes to a lower content of pro-inflammatory omega-6 fatty acids and a higher content of anti-inflammatory omega-3 fatty acids. Furthermore, wild game meat is a good source of protein and minerals such as iron and zinc."
Phil's menu, offered at The Bull and Swan and The William Cecil, will include a game consommé and pan-seared pigeon breast among their starters and venison Wellington and a rolled and stuffed saddle of wild rabbit among their mains. One course will cost £18.50, two courses £23.50 and three courses £28.50.
The Bath Arms, which is situated on the Longleat Estate in Wiltshire, will be offering a menu including home smoked pheasant with a mulled wine jelly and game sausages with golden raisins and crostini for starters. Among their mains will be loin of venison with a butternut puree and roasted pigeon with watercress and potato gallette. One course will cost £16.50, two courses £24.50 and three courses £29.50.
The New Inn at Coln St Aldwyns will be offering winter game and oxtail broth and pigeon with black and white pudding among its starters and pot roasted partridge, roasted mallard breast and hare and rabbit risotto among its mains. Two courses will be available for £23.50 and three courses for £27.50.
Following its recent re-opening following an extensive refurbishment, the latest of the Hillbrooke hotels, The Stag and Huntsman at Hambleden, is offering game ravioli and carpaccio of venison with pickled vegetables among its starters. Among its mains will be a Hambleden venison burger and smoked wild duck with a boiled quail's egg and sloe gin reduction. One course is available for £17.50 and two courses for £22.50.
The Master Builder's at Buckler's Hard on the Beaulieu Estate is offering a terrine of Beaulieu Estate game and roasted pigeon breast with pickled grapes among its starters and a cannon of red deer with a poached pear winter fruit compote and a game pie among its mains. With one course available for £17.50 and two courses for £23.50.
Christoph Brooke, managing director of Hillbrooke Hotels, said: "We strive to use as much local produce as we can in each of our hotels and this extends to our game menus. The meats which each hotel's menu is designed around are from suppliers local to each hotel - some is even from the estate on which they sit. Our chefs carefully design the menu each year to bring the best out of these wonderful meats for visitors to our hotel restaurants - and they're not to be missed."
For more information, visit hillbrookehotels.co.uk.