Something to write home about from Austrian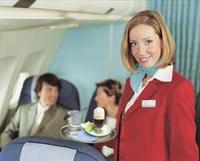 The new meal service is served in a specially designed presentation box where the lid is actually an oversized postcard. So as you're tucking in and heading for the Alps just write a note to someone you want to make green with envy and pass the card to the cabin crew who will post it free of charge. It's a gift, you can say, "Wish you were here" before you actually arrive.
It's not just a gimmick. The food, designed by an award winning Austrian Chef, comes in an individual presentation box and by using your postcard you are already recycling. The meals are based on traditional Austrian dishes and vary by season and time of day. For breakfast you could get muesli with yogurt and a selection of cold cuts but later in the day you may be offered a special beef salad and strudel. A separate bread and soft drink service accompanies the 'Austrian Snack Box'.
It seems strange to consider a ski trip without skis, rather like a beach holiday without a bikini, yet some airlines seem to think these items are luxurious extras and charge for them as such. Being Austrian we do understand about skiing and wouldn't dream of charging extra for this essential kit. As long as you pre-book, one pair of skis or one snowboard, per passenger, will be carried, free of charge, this is in addition to your checked luggage allowance of 20kgs in Economy Class. These arrangements can be made at the time of booking through a travel agent, passengers who have booked on line should call 0870 1242625 to book the additional luggage (a booking reference will be required).
So, travel with Austrian and your skis go free, you'll get a free lunch (or breakfast or dinner) and a free postal service, surely that's something to write home about?
We fly up to five times a day from London Heathrow to Vienna where there are fast and frequent connections to Austria's regional airports including up to six flights a day to Innsbruck, up to five a day to Graz, up to four a day to Klagenfurt and Linz and up to three a day to Salzburg. In addition, there is a special ski service from Manchester direct to Innsbruck operating once a week from Saturday 23 December 2006 until 24 March 2007. The flight leaves Manchester at 11.15 and arrives in Innsbruck at 14.30.
For information and reservations visit austrian.com return flights to Vienna, including taxes, start from just £98, restrictions apply.