Lexus LF-LC concept named the people's favourite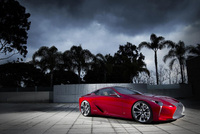 Lexus's LF-LC is proving the hottest concept of the 2012 motor show season, following up its Detroit design award with a popular peoples' prize win at the Chicago Auto Show.

The hybrid 2+2 represents Lexus's highly desirable vision of a future luxury sports coupe, created by the team at its Calty design studio in California. It displays the new Lexus design language in its interpretation of the signature Lexus spindle grille and rear architecture. Across the bodywork, curves blend smoothly into dynamic angles, creating an engaging interplay of lines, shadows and corners. The profile the LF-LC creates is unmistakably that of a serious driver's car, emphasising direction and motion.

On its debut at the North American International Auto Show LF-LC was honoured with the EyesOn award from a jury of leading designers. Now it has won the "best concept in show" title at Chicago, as voted for by the thousands of visitors to the 10-day event. It was an emphatic result, achieved with around 30 per cent of the popular vote.

Speaking before the show, Yoshi Inaba, President and COO Toyota Motor North America, highlighted LF-LC in a speech to the Chicago business community. He said: "This is just a concept at this point, but judging from the fantastic reception it received at the recent Detroit auto show, people want us to build it."

LF-LC will make its first appearance outside of North America at the Geneva motor show in March.