Audi A1 is named CarBuyer's Best Luxury Small Car 2012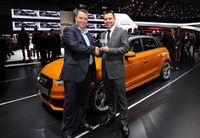 The Audi A1 has earned another notch on its awards post by being named Best Luxury Small Car of 2012 by CarBuyer's expert panel of road testers and reviewers.

Editor-in-Chief of CarBuyer, Steve Fowler, explained: "The Audi A1 continues to be the best luxury small car for CarBuyer users. It's posh, but not too pricey, while running costs are super low. We love the way it looks, the way it drives and the quality for the cash is unbeatable."

The judges also highlighted that the A1's "sleek good looks and an incredibly upmarket cabin are at the heart of the Audi's appeal, while its impeccable build quality is second to none. What's more, the arrival of the more versatile five-door Sportback version means the A1 is now as practical as it is desirable. On this evidence, it's going to take something very special to knock the Audi off the top step of the podium in 2013."

Martin Sander, Director of Audi UK, commented "It gives me great pleasure to be accepting a second award for the A1 this year, which is also its second consecutive CarBuyer award. The fact that the A1 is continuing to win awards and defending the titles it won last year shows its enduring appeal."

The award was presented to Martin Sander, Director of Audi UK, by CarBuyer's Editor-in-Chief Steve Fowler on the Audi stand at the Geneva Motor Show.

Prices for the A1 start from £13,420 OTR (1.2 TFSI 86PS SE model) and go to £21,810 OTR for the top of the range 1.4 TFSI 185PS Black Edition model.