Fly the nest with help from Redrow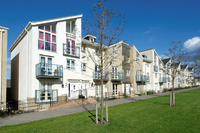 Those who long for a home of their own but think they couldn't afford to buy could be pleasantly surprised with a visit to Loves Farm in St Neots.
FirstBuy is available on selected two-bedroom Redrow apartments, enabling first time buyers to step onto the property ladder much sooner than they realised and without the need for a hefty cash deposit.
Tonia Tyler, area sales manager for Redrow Homes (South Midlands), commented: "According to research by the property portal Rightmove the number of people who want to buy a home of their own is increasing, but they're concerned about finding a suitable property and having the means to buy because of the high deposits lenders often require. The two-bedroom apartments at Loves Farm make ideal starter homes and thanks to FirstBuy those who have saved around £5,000 could find it's enough to help them buy their first home."
FirstBuy enables those starting out in life the chance to put off paying up to 20% of the price of a brand new home.
For example, a two-bedroom apartment available to buy on the open market at £123,950 could be snapped up for an initial outlay of £99,160 with FirstBuy.
The remaining share is covered by the equity loan, jointly funded by Redrow and the Homes & Communities Agency. Crucially it's interest free for five years and can be repaid when the customer has more funds available or when they re-sell.
"Those who purchase a home with FirstBuy should be able to access some of the better mortgage rates, usually reserved for those with lots of savings. They may even find that their mortgage repayments are lower than the rent for a similar-sized property would be. It means that instead of asking if they can afford to buy, they should be asking if they can afford not to," Tonia added.
The valuable help is available to first time buyers and those who want to return to home ownership. To be eligible for the help customers must have an annual household income of less than £60,000.
"Apartment living is great for those starting out in life and with a brand new Redrow home they won't need to compromise on style to afford a home of their own," Tonia said.
"Open plan layouts maximise the potential of the space available and with integrated kitchen appliances included in the standard specification customers won't have to worry about buying and installing a microwave, oven and fridge freezer."
Well insulated, with double glazing and central heating included as standard the apartments are designed to be more energy efficient than their older, second hand counterparts and so potentially cheaper to run.
Loves Farm is ideally located for commuting as the development is within walking distance of the nearby train station, with trains whisking passengers to London in under an hour.
For more information, visit redrow.co.uk.