Blythswood Square launches Diamond Spa Package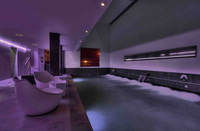 To celebrate the Queen's Diamond Jubilee The Spa at Blythswood Square has launched a limited edition £60 Diamond Spa Package available for June 2012 only.
Why not take a friend or loved one and celebrate the Diamond Jubilee by enjoying our limited edition £60 Diamond Spa Package which includes an indulgent Afternoon Tea, a file and polish and full access to the 'Thermal Experience' in the Spa, a seven stage journey of alternating temperature experiences to soothe, relax, detoxify and restore the body. The experience will leave you feeling like royalty – pampered and polished!

The Spa at Blythswood Square covers 10,000 square feet and offers the exclusive Blythswood Thermal Experience and the UK's first indigenous Scottish treatments designed in conjunction with luxury organic skincare house, ila.
The Spa features nine spacious and tranquil treatment rooms including a double suite where guests can enjoy a full range of face, body and holistic treatments, a decadent Dark Pool where guests can relax in warm waters, a Rhassoul, a choice of wet and dry relaxation rooms and a spa lounge where guests can peruse the spa menu and choose from an array of beautifully presented tapas dishes.
Blythswood Square is situated in the heart of Glasgow on one of the city's green spaces. The hotel has 100 bedrooms including four spacious suites and a top floor penthouse. It also has a restaurant, bars, a private screening room and event facilities. Blythswood Square is one of Scotland's most environmentally-friendly hotels through the incorporation of renewable energy technologies to achieve reduced carbon emissions.
For further information, visit blythswood square.com.