TV romance set to woo Lakes lovers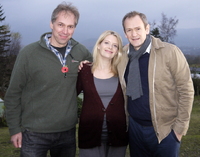 Cumbria's tourism industry could be given a boost by a romantic comedy series currently being screened on ITV1, and starring some of the Lake District's loveliest scenery.

That's the hope of Cumbria businessman David Jackson, the owner of the Keswick holiday park where some of the key scenes in Love Life (Thursdays at 9.00pm) were shot.

More than 60 actors and film crew were involved for over a week in the making of the series at Castlerigg Hall Caravan and Camping Park, just outside Keswick.

The park's extensive views over the Lakeland fells provided a backdrop to much of the action involving the passionate but also often very funny life and loves of its characters.

Mr Jackson, who plays an active role in a number of tourism organisations in Cumbria, said the timing of the series was absolutely perfect for the coming holiday season: "The story is, of course, fiction - but there's no hiding the reality of the beautiful Lakeland landscape, and I think it could prompt a surge of interest among holidaymakers.

"Even though the series was shot in November, it was largely filmed under clear blue skies with gorgeous seasonal colours which really showed the Lake District in its best light.

"With all the indications that Britain is set for another stay-cation year, this could be just the boost Cumbria needs to get more than its fair share of visitors," said Mr Jackson.

Among the props brought onto his park, he said, were two holiday caravans from South Lakeland firm Kendal Caravans - one of which was later sawn in two for filming the studio scenes.

Based on a former farm on which the Jackson family has lived since 1938, Castlerigg Hall Caravan and Camping Park attracts visitors from across the UK and overseas.

It provides luxury caravan holiday homes for rent, plus pitches for touring guests and eco-friendly camping pods - and has won a number of regional and national awards for its quality standards and environmental care.