Blue chip plc Babcock joins the Ibiza Club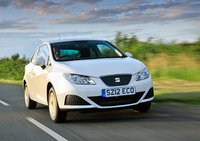 SEAT UK's increasingly successful fleet team is celebrating another important contract win with the news that blue chip support services firm Babcock International Group PLC has signed a deal for up to 100 new Ibiza superminis.

The agreement, which saw Babcock's specialist fleet team begin with a pool of 15 contender cars, sees the Spanish supermini supplied for use by employees in the plc's engineering training division.

A process of elimination covering environmental issues, costs and safety considerations saw the initial list of cars whittled down to just two, with the SEAT winning through after a trial of both vehicles by the Babcock team.

The victorious SEAT is the ultra-frugal Ibiza 5dr 1.2 TDI E Ecomotive in luxurious S Copa trim. It means Babcock's drivers can look forward to a heady mix of exceptional economy – up to 91.1 mpg and emissions of just 92 g/km – and pampering luxury, with the likes of 15-inch alloy wheels, cruise control and air conditioning all included as standard.

The Ibiza makes a great financial case for itself, too. Those ultra-low emissions make the car both Road Tax and London Congestion Charge exempt, while a basic rate tax payer will incur company car BIK of just £30.64 per month on the SEAT.

Recently honoured as Eco Car of the Year in the Scottish Car of the Year Awards, this most frugal Ibiza remains one of the most environmentally sensitive, yet fun, cars in its class.

Explaining why Babcock opted for SEAT ahead of the competition, Babcock Group Fleet Manager Roland Puckett said: 'The combination of low CO2, low BIK and high MPG plus all the safety features made the Ibiza a winning contender. '

Sam Ragheb, SEAT UK National Key Account Manager, said: 'The whole SEAT Fleet sales team is understandably thrilled that Babcock have opted for the Ibiza.

'We put in a lot of work to ensure the car had the best possible chance in line with our ambition to be a fleet manufacturer of choice, and I'm sure we will go on to prove that we are also a team that's very easy to do business with.'

The first cars are being delivered to Babcock Training employees now, with a gradual roll-out of vehicles across the fleet planned.