NewBuy scheme attracting huge interest says David Wilson Homes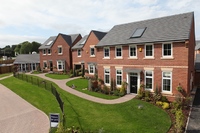 The launch of the Government's NewBuy scheme, which heralds the return of 95 per cent mortgages for buyers of new homes, is already attracting enormous interest says housebuilder David Wilson Homes North West.
Around 20,000 potential homebuyers have already pre-registered their interest on the company's website nationally, with the weekly registration rate now hitting 1,500.
Interest in the scheme, which is available at various developments across the North West, is being driven by the dramatically reduced deposit required to buy a new home. This has provided creditworthy buyers the best opportunity for five years to step onto the housing ladder.
As well as website pre-registration, David Wilson Homes North West is launching its own helping hand for would-be homebuyers with a helpline to deal with the increased level of interest - 08448156178. It is pledging that its network of mortgage advisers will be available seven days a week so that NewBuy mortgage applicants can get independent advice and a rapid decision.
Steve Jackson, Sales Director at David Wilson Homes North West said: "This is a significant change for the housing market in the North West and as we are seeing substantial levels of interest, I would urge anyone interested to contact us as soon as possible. We are happy to explain how the new system will work and talk our customers through the reduced deposit requirements.
"We have set up a priority service especially for our buyers, using independent mortgage advisers who will ensure their inquiries receive a rapid response."
David Wilson Homes North West is hailing the return of 95 per cent mortgages as a real boost for the local housing market and local economy.
Steve continued: "We believe it will provide the necessary kick-start to the market which has been starved of mortgage finance in the past five years."
"There is an awful lot of pent–up demand. People have been renting for three or four years and many are a bit fed up that they are paying more in rent than if they had bought.
"The key thing is that people will no longer need huge deposits of up to 20 per cent. Even though house prices have fallen since 2007, not everyone has been able to take advantage because of the hefty deposits which lenders have been demanding ever since the credit crunch began."
The new product is also available to existing homeowners who want to buy a new build home and who only have a five per cent deposit.
Praising the scheme, Prime Minister David Cameron, commented: "Strong families and stable communities are built from good homes. That's why I want us to build more homes and I want more people to have the chance to own their own home.
"It's no good hoping people will climb the property ladder if the bottom rung is missing. Affordable properties and available mortgages are vital. So we're working with leading house builders and lenders to get the scheme underway."
For further information, visit dwh.co.uk.