Dive season returns to Tanjong Jara Resort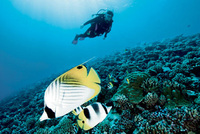 This March, Tanjong Jara Resort reveals one of Malaysia's best-kept secrets once again. With the wet season officially coming to an end, Tanjong Jara Resort takes guests to Pulau Tenggol, a tropical island which provides some of the finest diving and snorkelling sites in the world and is the ideal haven for any dive enthusiast.
From March to October, the deep waters of the Terengganu Marine Park come to life, offering a perfect window onto untouched coral gardens and rare species of marine life, providing both an unforgettable introduction for beginners and a wealth of underwater adventures for experienced divers.
Situated in the South China Sea on Peninsular Malaysia's east coast, Tenggol Island is one of Malaysia's most beautiful and serene islands. Over 20 stunning dive sites surround the main island of Pulau Tenggol with depths up to 30 metres guaranteeing sightings of some of the world's most spectacular marine life. Included in the possible experiences are friendly sea turtles gliding alongside divers, giant manta rays coasting through the ocean and, if lucky, there is also a chance guests can spend their dive excursion swimming with the largest fish in the world, the Whale Shark.
A 50-minute journey of anticipation brings guests from Tanjong Jara Resort to the diving hotspot by private speedboat. The island, less than three kilometres long and two kilometres wide, possess rugged cliffs which offer a spectacular diving canvas and an ideal hideaway for the tropical underwater world. Bright corals and vivid nudibranchs provide the perfect backdrop for the wealth of colourful marine life, with every species imaginable in residence; from giant double-headed parrotfish, yellowtail fusiliers and sea turtles, to eagle rays, black-tipped reef sharks and barracudas. An impressive array of giant rock and boulder formations offer an underwater obstacle course for the experienced diver, whilst those looking for a more restful experience can simply let the current glide them over the reef, accompanied by curious bat fish or enormous schools of hunting trevallies.
The resort's experienced dive instructors will lead guests on a journey of discovery with each unique site offering up a new hidden gem. Diving equipment is available to hire from the Water Sports Centre and a range of PADI licenses, including Open Water Diver and Advanced Open Water Diver as well as Emergency First Response and Rescue Diver courses are on offer. Interested guests can receive the PADI theory book prior to their visit and for beginners an introductory diving class is available.
Guests can enter the awaiting underwater haven by taking the Tenggol Diver's Escape package; for a minimum 3 nights accommodation for MYR 980++ per room per night, guests will also avail of a daily breakfast and two days of diving excursions, inclusive of a barbeque lunch. The Tenggol Diver's Escape package runs from the 1st of March 2012 until 30th of September 2012 and must be used within the specified period.
With so many different dive sites around Pulau Tenggol, the resort's guests have the privilege of space and can truly enjoy a personal and memorable experience. Pulau Tenggol is a truly magical spot and a diving holiday at Tanjong Jara Resort offers something for everyone, from a relaxed glimpse at Malaysia's stunning marine life through a snorkel mask, to an exciting and reinvigorating diving adventure. A visit to this breathtaking underwater haven is an unforgettable experience that will create lifelong memories.
Visit ytlhotels.com for more information.