C-Class crowned Best Premium Car at Fleet News Awards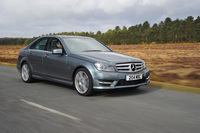 Mercedes-Benz is celebrating a spectacular win for C-Class in the 2012 Fleet News Awards, taking top honours in the Best Premium Car category, during the ceremony held at the Grosvenor House Hotel on London's Park Lane.

Now in their 24th year, the Fleet News Awards recognises the best people, companies and vehicles in fleet. They arejudged by a panel made up of fleet industry experts, as well as senior members of the Fleet News editorial team, who were involved in the lengthy judging process which was chaired by former SMMT chief executive Christopher Macgowan and audited by Deloitte.

Cars were scored on a range of criteria, including operating costs (depreciation, fuel, servicing, maintenance and repair, lease rates, tax liability), suitability for their use as business cars and the level of support from the manufacturers and their corporate sales teams.

Nick Andrews, Head of Fleet for Mercedes-Benz UK, said: "We are delighted to have won Best Premium Car for our C-Class at the Fleet News Awards, which really confirms our commitment to deliver the finest product and best service to our fleet customers. With a current upgrade offer on the model line from Elegance to a Sport, saving up to £1,700, the C-Class really is the ideal choice for both drivers and fleet managers."

The judges' comments were: "A major facelift, which includes a high quality interior, has made the C-Class a far more desirable car. Mercedes-Benz has addressed the CO2 issues, resulting in a much more efficient car with running costs up with the best."

With a new, dynamic appearance inside and out, introduced last year, 10 new assistance systems for more safety, new engines with up to 31 per cent improvement in fuel consumption and new generation of telematics with internet access, the C-Class is a comprehensive modernisation.

Efficiency-enhancing measures include new engines, improved 7G-TRONIC PLUS automatic transmission and an ECO start/stop function also feature alongside a total of more than 2,000 new components, which distinguish the latest generation of the Mercedes-Benz C-Class from its predecessor.

The C-Class is the highest-selling model for Mercedes-Benz. The current range has found well over one million buyers worldwide since its launch in March 2007 (98,000 UK sales). Since the introduction of the first C-Class in 1982 (then known as the model 190), Mercedes-Benz has sold more than 8.5 million vehicles in total in this segment. In 2010 too, the C-Class has repeatedly won top places in the registration statistics.