PacaPod Mirano - Classic Riviera chic with a modern twist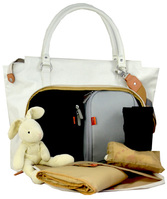 The new PacaPod Mirano epitomises easy summer style with an elegant mix of white natural fabric, soft leather and bang on trend buckle details to create a show stopping silhouette. Taking inspiration from classic Riviera chic and seamlessly blending it with the latest new nautical look, it's a wardrobe wonder that will compliment any outfit.
The contemporary over-sized weekend design encompasses all of the family's needs and offers parents a sleek and stylish way to carry everything - and the kitchen sink! Tucked discreetly inside this cavernous bag (33 litre plus capacity/44 plus the pods) is PacaPod's unique 'baby organisation system' which features two detachable 'pods' for storing baby feeding and changing items.
The lightweight and discrete little pods can be quickly removed from the main bag and attached to any buggy, luggage trolley or headrest, or dropped at nursery containing food and spare clothes - perfect for today's modern multi-tasking mum, dashing from home to the school gate to the office.
Casual and effortlessly stylish, the Mirano is durable enough for a picnic in the park, strong enough for a beach trip or weekend break and fashionable enough for a night out. It's lightweight but jam-packed with additional parent pockets and clever features to help to take the stress out of venturing out with babies and toddlers in tow and adds a little glamour to everyday!
The PacaPod Mirano is available in chalk and navy; price £95, from pacapod.com.