Kier Homes launches new homes in Round House Park, Cringleford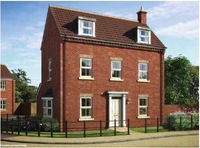 Kier Homes will launch its latest new homes at the very popular Round House Park development in Cringleford over the Easter weekend.
The 41 new homes that this phase of development will bring to Round House Park will comprise a mix of two, three and four-bedroom houses, all designed and built to reflect the existing architecture of the Park and the neighbouring village of Cringleford.
One of the most prestigious villages in the Norwich area, Cringleford is consistently top of any house-hunter's list when looking for a new home in Norfolk. Despite being surprisingly close to Norwich's thriving city centre and transport links, Round House Park nonetheless provides quintessential country living with a genuine village atmosphere. The individual homes are pepper-potted throughout the development and the village centre offers a traditional green, local shop and newly built school.
The special atmosphere of Round House Park is enhanced by a series of cycleways and walkways that meander throughout the development, giving those who live there the opportunity to make the most of the 11 acres of parkland and surrounding areas.
Almost uniquely when buying a new home, buyers at Round House Park can gain an impression of what their new home might look like in five years' time once the building has weathered and the landscaping matured; Kier Homes completed its first new houses at Round House Park in 2007 and they have blended seamlessly into the village ambience, their mature gardens giving an even greater sense of the perfect rural retreat.

To help maintain the experience of living in a truly natural environment, Kier Homes has designed the landscaping around the new homes to include the creation of a number of ecological habitats to encourage and attract a diverse range of wildlife to the open spaces and gardens of Round House Park. This Easter weekend visitors are more likely to find real birds' eggs than chocolate ones.
Inside the homes, Round House Park offers a selection of different living options. The Shelley is a spacious two-bedroom home perfect for both first-time buyers and those looking to downsize. The countryside vernacular is best reflected in the quaintly named Bluebell cottages, which offer spacious three-bedroom living behind a quintessentially rural façade. The grandest of the designs is the Biddenham Bay, which boasts a Georgian-style portico entrance, and the whole of the top floor is dedicated to a stunning master bedroom suite.
Every home is built to the exacting standards demanded by Kier and includes the latest fitted kitchens and bathrooms. The highest level of insulation alongside the double glazed windows maximises the thermal efficiency of each house, making each one more comfortable and economical to live in.
The first of the new show homes opens on Easter Saturday at 10am. To find out more information about Round House Park visit kierhomes.co.uk.