Buying a new home is a picnic with Redrow in Winsford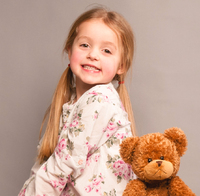 If you go down to St Johns Wood this weekend you're sure of a big surprise – Redrow is celebrating the return of 95% mortgages with a teddy bear's picnic at its popular Winsford development.
Young visitors are being invited to bring along their own teddy bears to this fun-filled family event on Easter Saturday and Sunday, April 7th and 8th, when the grown up visitors can learn more about buying a new home with a deposit of just 5%.
Anita Williams, sales director for Redrow Homes (NW), explains: "St Johns Wood features a variety of family homes and we want all members of the family to be involved in choosing the right one for them – young and old.
"As well as fun and games, including an Easter-themed treasure hunt and competition prizes on offer, there's a serious point we want to make to families, which is that they can afford the home of their dreams through the NewBuy scheme."
Designed to kick-start the housing market by underwriting mortgages up to 95% of the property's value at competitive interest rates, NewBuy will be available to customers spending up to £500,000 on a newly built home, whether they're a first time buyer or already own a house.
Anita added: "The idea of holding a teddy bears' picnic as a celebration was inspired by our latest national marketing campaign, which features five-year-old Issy Duckworth, who is from Winsford, highlighting the all-round family appeal of a new Redrow home.
"A special promotional film of Issy demonstrating one of our show homes has been an internet hit and her own favourite teddy bears are prominent in that film. Saturday's event is a chance for children to show their parents our homes through the eyes of a child and have some fun at St Johns Wood."
Picnic treats will be served and young visitors who take along their bears will be rewarded with treats to take home.
Prices at St Johns Wood currently range from £174,995 for a three-bedroom detached house to £209,995 for a four-bedroom detached house.
Homes are from the New Heritage Collection and have been influenced by the architecture of the Arts & Crafts era, while inside they boast bright, modern interiors with convivial open plan spaces and high quality fixtures and fittings.
To join in the fun of the teddy bears' picnic, head along to St Johns Wood on Saturday or Sunday, (April 7th and 8th) from 12noon to 5.00pm
For more information visit redrow.co.uk.