Aquarias Spa at Whatley Manor introduces 'beyond organic' ila-spa treatments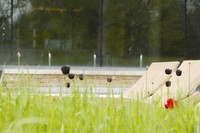 Aquarias Spa at Whatley Manor Hotel offers a tempting and luxurious selection of spa experiences with the aim of restoring both body and mind to a new harmony.

From 10th April 2012 Aquarias will be introducing ila-spa body treatments to offer guests the unique opportunity to choose from a range of luxurious and organic spa treatments alongside the existing range of La Prairie treatments, with their advanced skincare technology.
The ila-spa brand is 'beyond organic' offering a rare level of organic purity within its range of holistic body treatments, including rebalancing massages, detoxifying wraps, revitalising scrubs and well-being rituals , all offered in the comfort of the Aquarias spa treatment rooms and its VIP Suite.
The artisan produced skin care range is completely free of synthetic chemicals and is 'beyond organic', which is only achieved by selecting the raw materials from ethical sources, in harmony with nature. These include three cornerstone ingredients - Damascena Rose essential oil from the foothills of the Himalayas, Himalayan Salt Crystals and wild grown Argan Oil from the Lower Atlas Mountains in Morocco. The raw materials are then hand blended at ila-spa's Cotswold Barn, ensuring that the finished holistic products retain the exquisitely pure energy of nature.
Whatley Manor is the first hotel in the Cotswolds to feature ila-spa and has worked closely with the company to train the Aquarias Spa therapists to deliver these very special treatments. By nurturing and re-connecting to the healing energy that is present in all ila-spa products, the therapists use ancient techniques to channel the flow of energy and transform the treatments into a positive experience that continues beyond the spa.
Carol Osborne, Spa Manager at Aquarias Spa commented "We were looking for an organic, chemical free brand with a luxurious feel that also offered massage and body treatments to complement our existing skincare range. We are delighted to introduce ila-spa which is not only 'beyond organic' but is also hand blended on our doorstep, in the Cotswolds".
Treatments available at Aquarias Spa include a 60-minute Kundalini Back Massage (£85) - a gentle, nurturing massage that uses chakra-and-sound healing to activate and channel the Kundalini , the dormant energy at the base of the spine. There is also a choice of 90-minute body treatments and two-hour rituals, such as the 'ila-spa Dreamtime Journey' (£170) that deeply relaxes the nervous system and restores the natural rhythm of sleep.
Unique to the Aquarias VIP Suite is the two-and-a-half hour ila-spa Chakra Wellbeing Couples Experience (£455). This treatment uses a couple's specific blend of the three most exquisite oils - jasmine, rose and orange blossom to encourage the feeling of togetherness and uplift the soul. It includes a body scrub, hydrobath, body and facial massage and the pouring of warm oil over the third eye (Shirodhara); finishing with a fresh chamomile tea ritual.
A one-night stay at Whatley Manor costs from £305 per room for a standard room including bed, full English breakfast, full use of the spa facilities, 10% discretionary service charge and vat.
Ila-spa treatments cost from £75 for a 45-minute treatment, £85 for a 60-minute treatment, £120 for a 90-minute treatment, and the two-hour rituals cost from £155.
For further information and to book, visit whatleymanor.com. For further information on ila-spa go to ila-spa.com.