Neighbours return to their roots thanks to Miller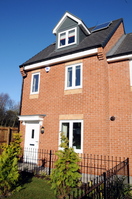 Neighbours who lived in the same street when they were children have returned to the same place they grew up and are now next door neighbours - at a new Miller Homes development in Newcastle.
Daniel Moran and Ian Stockley lived on the same street in the former Birchvale estate near East Denton in Newcastle in the 1980s before it was knocked down in 1990s to make way for new homes. The pair moved to different parts of the North East before house builder Miller Homes took over the land in 2010 to build new family homes and named the development Greenvale Park.
Unbeknown to them Daniel and Ian both had the same urge to move back to the area where they grew up, and bought the same three-bedroom Tolkien house style at Greenvale Park with their respective partners, moving in next-door within a month of each other.
Daniel, a Royal Regiment of Fusiliers sergeant said: "It's hard to believe that the boy I once knew when growing up in this area when I was younger is now my next door neighbour after all these years of living apart.
"I have always loved this area of Newcastle, so when my girlfriend Danielle and I wanted to buy a home together and I heard that Miller Homes were building starter homes on the very same piece of land that I grew up on, I just knew I wanted to move there. When I saw Ian next door getting into his car I couldn't believe it."
Ian, a learning and development officer for Ageas Insurance said: "It's a real coincidence that this has happened. Greenvale Park is a lovely area and by already knowing Dan from when we were younger has helped us to settle in, there really is a great sense of community here."
Miller Homes sales adviser Brenda Frayne said: "It's always lovely seeing families move into their new home but this is an extra special tale and something that epitomises Miller Homes' ethos of building friendly and supportive communities. None of us knew when processing the sales that they knew each other from years ago, so when I told them there was another family moving back to the area and asked me what each other's names where, the penny dropped and it went from there. We wish each couple well in their new home."
For more information visit the Greenvale Park sales centre open five days a week, Thursday - Sunday, 10.30 am - 5.30 pm and Monday 12.30 pm - 5.30 pm or visit millerhomes.co.uk.