Catchment is king - the new home price premium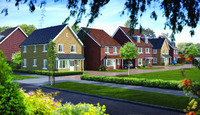 As the recently published Good Schools' Guide shows, the best schools are in great demand. With the arrival of Spring comes a new level of stress as parents find out which school they've managed to secure their children a place in – but one thing is clear – homes near excellent schools come with a price premium. Catchment is king.
Some of the best state schools have standards as high as some expensive private schools – so when you're buying a new home, you could also be investing in your child's education. The best state schools see fierce competition to secure places with stories of 'fake addresses' and increased church attendance the best known. Luckily at Bovis Homes' Lavender Fields, Carshalton Beeches, the excellent Stanley Park High School is close by.
Research shows that the very best state schools can attract a price premium of up to £70,000. This represents an increase of 3.5 times on the price differential in 2006. Property prices within the catchment areas of the country's top 50 state schools are 35% higher than the rest of the UK.
Chris Roads, Sales Operations Director at Bovis Homes, comments: "Homebuyers don't have to pay that premium with a Bovis Home. When you visit one of our show homes, you'll find what we include as standard. A fully fitted kitchen including cooker, hob, dishwasher and washing machine and now – the comfort of knowing your child will stand the best chance of a great education."
Chris continues: "It's important not to check how far your new home is from the school you want, but whether you're in catchment area. Plenty of homes are near schools, but not in catchment area – so check carefully. Unless you're buying at Lavender Fields, as we already know we're in catchment for great schools."
The Bovis Homes development at Lavender Fields has an appealing blend of attractive properties including large detached family homes and town houses perfect for those needing that extra space. Lavender Fields is a stylish new development located in the leafy suburbs of Carshalton Beeches. Despite being within forty minutes on the train from the centre of London, it retains its tranquil village-like atmosphere.
Prices at Lavender Fields currently start from £294,950 for a two bedroom coach house. For further information on the Lavender Fields development, visit bovishomes.co.uk.