The Panasonic LUMIX GF5 - Unleash the artist within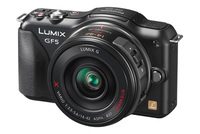 The sleek Panasonic Lumix GF5 is a stylish camera designed to produce professional image quality and Full HD video from an ultra-compact body. Small enough to fit easily into your pocket or handbag, and with the Worlds Fastest Autofocus , you'll never miss the action with this interchangeable lens LUMIX G system camera. Offering crisp and detailed pictures and HD video with the brand new high-sensitivity 12.1 megapixel Live MOS image sensor, the LUMIX GF5 is the perfect camera for people who want great results with beautiful design.
Incredible image quality, wherever you areBe spontaneous and creative with confidence! Whether you're walking through a street market or out with friends, the LUMIX GF5 is powerfully versatile and ready to go anywhere you do. It produces stunning image quality even in low light conditions and offers intuitive functionality to suggest the best settings no matter where you are. The new high resolution (920k) bright and responsive 3.0-inch LCD touchscreen has a clean and easy-to-use interface making it simple to frame shots and start shooting quickly - so you're always part of the fun and never distracted by complex settings.
Ultra-compact Capture your own unique view of the world in style. The LUMIX GF5 is crafted with a durable and sophisticated aluminium design tailored to suit you, with two UK colour options: black, and white. Packed full of advanced technology, the sleek body also features an in-built flash and interchangeable lens system, opening a new way to experiment with high-end photography from ultra-compact and highly portable design.
Shoot the world from your perspective Apply captivating visual effects to your photos without the need for laborious post-production software with many new creative filter effects. Shoot elegant street scenes with Dynamic Monochrome, and make your photos stand out with One Point Colour mode. The LUMIX GF5 also provides filter recommendations, Intelligent Auto Plus (iA+) functionality and Scene Guides to allow you to push your photography to new levels and develop your own style so you can shoot professional-looking images without needing extensive photography knowledge.
Key features:
Exceptional image quality: The LUMIX GF5 features a new high-sensitivity 12.1 megapixel Live MOS image sensor and an improved Venus Engine with Multi-process Noise Reduction. Combined with 0,09sec Light Speed Auto Focus, and 1080i Full HD video capture, the LUMIX GF5 gives professional results from an ultra-compact design
Creativity without limits: Professional results are at your fingertips with an easy-to-control user interface that helps you experiment and develop your own style. Shoot action like never before with a wide range of intuitive Auto Focus modes. Whether you're shooting a street performer or a kite flying high in a meadow, with just one touch you can Auto Focus lock so the LUMIX GF5 will track the action as it happens
Intuitive control: The LUMIX GF5's stunning new 3.0-inch 920k dot LCD touchscreen, lets you frame the scene instantly and achieve the perfect shot every time. Meanwhile an intuitive control dial allows you to quickly and easily scroll through your pictures and videos, as well as explore the camera functions with on-screen guidance explaining each feature
Designed to give you more
Barnaby Sykes, Lumix G Product Manager, Panasonic comments: "We have designed the LUMIX GF5 for people who want professional results without being forced to carry a bulky and complicated DSLR – people who want to push the limits of creative photography without compromising on style. For shooting everyday life and making it look extraordinary, people don't want to carry an extra, heavy bag just for their camera. The LUMIX GF5 offers stunning image quality with excellent low light performance, alongside a range of intuitive features to boost your creativity, all in an elegant design with sweeping curves that combine style and power. Now you can take photographs like the professionals without carrying all the extra equipment." Further information about the GF5 is also available in the "LUMIX G Experience", a free iPad app allowing keen photographers to explore the world of LUMIX G before purchasing a camera. The feature rich app is available in Europe, without charge, from the iTunes App Store and includes, amongst others, detailed technology explanations, line-up demos and comparisons with traditional DSLR cameras.