Invitation to view new retirement homes and enjoy afternoon tea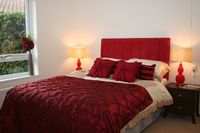 Two new show homes have been unveiled at Elmbridge Village in time for the retirement village's next open afternoon tea.

A two bedroom bungalow, 19 Day Court, and a one bedroom, first floor apartment, 25 Loxford Court, have been dressed to help those interested in buying understand how the living space could work for them.

Elmbridge Village was the country's first privately-owned retirement village in the UK. It has stood the test of time, marking the start of its fourth decade with a coveted fifth place in the bestretirementdestinations.com list of Best Retirement Communities in the UK.

With 30 years of history, the village is an established community in its own right as well as being part of the wider community of Cranleigh, in Surrey.

The afternoon tea is being held to introduce people to the Retirement Villages' concept and lifestyle, and to give guests the chance to see the newly-unveiled show home. There will also be the chance to tour the village and facilities.

19 Day Court is for sale priced at £349,950 with 25 Loxford Court priced at £145,000.

Doors will be open between 2pm and 4pm. For more information is available at elmbridgevillage.co.uk.