Destination UK for Europe's first Lexus LFA with Nürburgring Package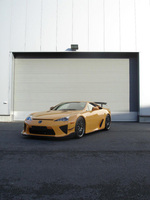 A British customer is the first in Europe to take delivery of the Lexus LFA supercar with a Nürburgring Package, one of just 50 examples that will be sold.

Finished in orange with a black interior, the model's exclusivity is matched by its track-focused performance and hand-crafted quality. Building on the speed and handling of the LFA, the Nürburgring Package adds a number of elements that increase downforce for sharper circuit performance, without compromising out-and-out speed.

It includes a front spoiler made from CFRP (carbon fibre reinforced plastic), a strong and lightweight advanced composite material, plus special mesh-type wheels with dedicated, high-grip tyres to improve manoeuvrability and stability. Maximum power from the LFA's 4.8-litre V10 engine has been increased from 552 to 562bhp (411 to 420kW), maintaining the car's 3.7-second nought to 62mph acceleration time and 202mph top speed.

The package has handsomely demonstrated its worth: last year Lexus undertook a performance check with professional driver Akira Iida driving the LFA around the Nürburgring's famous Nordschleife.