Suzuki Alto now VED and London Congestion Charge exempt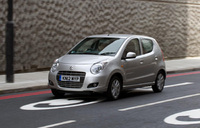 With outstanding performance in terms of fuel efficiency and CO2 emissions, Alto meets the lifestyle needs of today's motorists and the pressing global need for a reduced impact on the environment. Furthermore, it is one of the most fun-to-drive City cars available, a great example of Suzuki's "Way of Life!" philosophy.

Now on sale, the Alto Minor Change model for 2012 includes the addition of Dual VVT (Variable Valve Timing) for greater flexibility and response. This modification has resulted in further reductions in CO2 emissions as well as improvements to fuel economy.

The latest model incorporates a new design interior colour and fabric trim, new full wheel covers for SZ and SZ3 models and dipping rear view mirror. Glistening Grey metallic has also been added to the range as an optional colour.

Alto with manual transmission emits just 99g/km CO2 and is therefore exempt from the London Congestion Charge which brings a potential annual cost saving of £2,600 to a commuter travelling into the Capital five days a week.

The optional automatic transmission equipped SZ4 model now also benefits from lower emissions with a reduction to 118g/km from 122g/km. This has resulted in a lower VED Band and a drop from £95 to just £30, free in the first year.

Alto is manufactured for Global markets at Maruti Suzuki's Manesar assembly facility near Delhi, India. Suzuki achieves annual sales of 50,000 units in Europe of which around 7,000 are sold annually in the UK market.

Maruti Suzuki India, in which Suzuki Motor Corporation has a 54.0 per cent stake is India's largest carmaker with a current domestic market share of 50 per cent and celebrated its 28 year anniversary in December 2011. More than 10 million Suzuki cars have been produced and sold in India since the launch in 1983 of the Maruti 800, India's first affordable world-class car. There are over four and a half million Alto's currently on the roads there.

The Alto shares the highly efficient 1.0-litre 3-cylinder K10B petrol unit with the European built entry-level Splash model. This Euro 5 compliant 12-valve engine is light and compact with low friction characteristics and has a maximum power output of 50KW/68PS at 6,000rpm; Dual VVT (Variable Valve Timing) for both the inlet and exhaust camshaft is now included for greater flexibility.

The engine achieves a maximum torque of 90Nm/66lbft at 3,400 rpm, an EC combined fuel consumption of 65.7mpg and CO2 emissions of only 99g/km (with manual transmission). These figures make the Alto one of the cleanest petrol-powered City cars on sale in the UK.

The Alto is offered with both a five-speed manual gearbox, as well as an optional four-speed fully automatic transmission, a proposition not often seen in the A-segment.