Japan: Follow in the steps of Emperors on a self-guided walk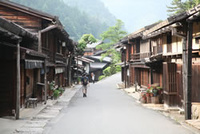 Oxalis Holidays has launched a new self-guided walking adventure on an ancient pilgrimage trail in the Kumano region of Japan. Ideal for those who want to walk at their own pace, the tour allows foreign visitors to experience the evocative landscape of rural Japan, stay at family-run inns with home-made Japanese cuisine, and walk along a trail used by Emperors for pilgrimages to ancient shrines.
The self-guided walking tour consists of a detailed itinerary, trail maps and step-by-step directions, local sightseeing information, with transportation and prepaid accommodation at inns in restored village houses run by local families.
The Kumano Kodo tour has five days of walking from 2 to 6 hours along the trail, walking from village to village. The inns also have their own natural hot springs so visitors can soak after a day of walking.
"The tour enables visitors who cannot speak a word of Japanese to discover the real Japan, beyond the neon lights of Tokyo and the temples of Kyoto.
It's about immersing yourself in Japanese traditions and culture and discovering Japan at street level, explained Oxalis Holidays' Matt Malcomson. "Many of our clients want to travel independently, and don't want to join a group tour. This tour is ideal, as they can visit the cities by themselves, but have the benefit of our local knowledge and support to see an area that few foreign visitors would be able to visit.
Local inns are run by people like Mr and Mrs Kurihara, who came to the small village of Chikatsuyu ten years ago. Mr Kurihara used to be an office worker in the city, but frustrated with city life, moved his family to his wife's ancestral home. They now host both Japanese and foreign visitors keen to walk the trail, especially since it became a UNESCO World Heritage site in 2006. Their rice steamed with clams and organic vegetables has a much-deserved reputation amongst visitors.
The tour starts with a scenic train ride along the Wakayama coast south from Kyoto, and uses the Kumano Kodo trail to travel east through the Kii Peninsula to the town of Katsuura. The last stop is the Hotel Urashima, which is built on top of a rock formation in the bay. To reach the hotel you take a boat from the quayside, but the best feature of this hotel must be its hot spring inside a cave and open to the sea. Sitting in a bath of hot spring water while watching the lapping waves is an unforgettable experience.
The Kumano Kodo tour starts at USD2,650/AUD2,525/£1,650 (based on two people sharing) for a 9-day package, not including flights, starting and ending in Kyoto, and includes transport by train, accommodation with breakfast and dinner each day, a personalised self-guided walking pack, local help and support, and a day of private guiding with a professional Japanese guide in Kyoto before your tour.
For more information, visit oxal.is.