RAM to track miles across Europe for charity rally challenge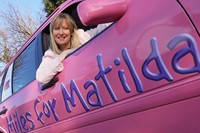 As Harrogate-based Susie Little gears up for the start of a 3,000 mile rally across Europe, vehicle tracking technology – kindly donated by Leeds-company Remote Asset Management (RAM) – is set to give a valuable boost to her fundraising efforts.
Tackling the infamous annual Scumrun rally which begins on 3 May at the Thruxton Circuit in Hampshire, Susie will drive 3,000 miles across Europe in a car costing less than £500.
Inspired by the loss of her niece Matilda, who died from a heart attack when she was just 28 hours old, Susie will be raising much-needed funds for children's charity Sparks. Determined to create a lasting memory of Matilda, Susie has entered the rally under the poignant team name 'Miles for Matilda'.
Although the route is shrouded in mystery – participants only discover their next destination on each morning of the challenge – RAM's vehicle tracking technology will allow friends and supporters to track the team's progress in real-time.
Susie explains how valuable the system will be during the challenge: "RAM's clever tracking software will not only help us analyse daily routes and speeds, it will also allow our loyal followers to see exactly where we are at any time. So although we may be thousands of miles away, our supporters will really be able to feel like they're part of the challenge too, hopefully leading to an increase in donations.
"We've been overwhelmed by the generosity of both individual and corporate supporters and as the start of the challenge draws closer, I'm feeling incredibly excited but also increasingly nervous!"

RAM managing director Chris McClellan added: "We're delighted to be able to help Susie raise money for this important charity. Our tracking technology has been used in a few charity challenges now and feedback from people we've helped has been that their fundraising totals and general awareness of their efforts have rocketed when our trackers have been fitted."
Live GPS positioning data will allow Susie's progress in her Thunderbirds-themed Fab1 vehicle to be viewed on the tailor-made webpage: remoteassetmanagement.co.uk/charityevents/detail/4
To support Susie and help raise money for Sparks, you can make a donation via justgiving.com/MilesforMatilda. To find out more about Miles for Matilda visit: milesformatilda.co.uk.