The Bled Days - Slovenian summer highlight you cannot afford to miss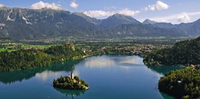 The world renowned Alpine tourist resort Bled in Slovenia has attracted people's gaze for millennia. The draw was anything from the beautiful glacial lake with an island, medieval castle, thermal springs, fresh alpine climate to the outstanding scenery, which was able to arouse pleasant feelings when admiring this work of nature. In the last century, when Bled became a magnet for the kings, presidents, and many other people from faraway places, the lively atmosphere brought one of the biggest traditional summer events in Slovenia, the Bled Days.
The event has a long tradition and presents the summit of the summer season in Bled. Many people believe it is a continuation of the celebrations held in the time of King Aleksandar Kara?or?evi?, between the world wars, when boats were lid with candles and all the hotels, villas and the church were illuminated. The bonfires burned and castle rock was lid with red fire. Singers and brass band entertained the royal family and visitors of Bled.
The event has changed through time, and nowadays, Bled Days offers Slovenian Arts and Crafts Fair, Music performances on the open stage and local brass band performance in the city centre of Bled (more precisely in Spa park and Promenade). Night time offers candles on the lake, laser projection on the castle rock and fireworks. Lively afternoon program for children and adults and delicious food are a big draw for people from near and far.
This is also an important opportunity for local gastronomic industry to introduce themselves and give their best in a bigger scale than normal. Local products such as the Kranjska sausage, Bohinj cheese, Lectar gingerbreads, Dražgoše gingerbreads, honey products, and of course the famous Bled Cream cake, can be purchased and tasted here.
Bled days are held every year on the 4th weekend in July, this year from 20th until 22nd July.
To find out more about the event, visit bled.si.