New homes in Nottinghamshire are the ideal retreat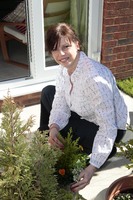 Taylor Wimpey's Rufford Grange development of properties for sale in Nottinghamshire provided one city slicker with the perfect get away from her hectic lifestyle.
City living is ideal for some, but after years spent living in busy Nottingham, Andrea Quigley was keen to find a quieter place to bring up her family.
The police officer and her partner Ian felt they could offer their two sons (8 and 9) a better quality of life in a more peaceful location – and they found exactly what they wanted at Taylor Wimpey's Rufford Grange development of new build homes for sale in Nottinghamshire's rural north.
With great schools, plenty of open countryside on the doorstep and a pleasant village setting, Andrea had no hesitation in putting down new roots in this sought-after new community of Nottinghamshire properties.
"With the boys getting to the age where they'd rather be out on their scooters and bikes than just playing the back garden, I wanted us to be somewhere that was safe for them to do that," says Andrea (44).
"Our new house is in a cul-de-sac, so I'm happy to let them play out there, and the countryside is all around which they can explore on their own as they get older.
"The availability of good schools was equally important to me, and Rainworth has a great secondary, Joseph Whitaker School, with an excellent reputation and a really good Ofsted report.
"The two primary schools in the area are also well regarded, and Stanley and Archie have already settled really well at Python Hill Primary."
With the schools and location sorted, Andrea was delighted to discover she and Ian, an air traffic controller with the RAF, didn't have to compromise on the type of house they could get for their money.
They fell head over heels for the four-bedroom 'Bembridge' detached house, and have loved every minute of life in their new home since moving in just before Christmas.
"I'd come from an old house with big double bedrooms and was under the impression I wouldn't get the same amount of space with a new-build, as I thought they tended to have pokey rooms and really small gardens," says Andrea.
"But there was no compromise on space whatsoever with the 'Bembridge' – it's just so spacious. There's a huge lounge and we also have a separate dining room which is a bit of a luxury, while the bedrooms are a great size and the garden's just right for our needs. In fact, I was surprised how much we could get for our money."
Andrea and Ian enjoyed a simple, stress-free move to Rufford Grange after taking advantage of Taylor Wimpey's popular Part Exchange scheme.
She says: "My house had been on the market for a long time, and although I did find a buyer, they pulled out of the move further down the line.
"So Part Exchange made total sense when I found the house I wanted to buy. It was the safe and sure option, and I found everything went through so quickly and easily that it's something I'd recommend to others."
Thanks to the superb Part Exchange incentive, Taylor Wimpey can take all the stress out of stepping up the property ladder – by offering property-seekers like Andrea a fantastic guaranteed price for their old home, based on the average of independent valuations, with the agreed sum deducted from the price of their brand new purchase.
Those trading up to selected family-size homes at Rufford Grange can relax in their own home until their new place is ready to move into, safe in the knowledge that Taylor Wimpey is the guaranteed buyer for their current property.
Homebuyer incentives are also available for first-time buyers, including the FirstBuy scheme, which lets qualifying purchasers secure selected homes for 80% of the full purchase price.
Incentives can be tailored to customers' individual circumstances and are subject to availability, with full details available from the Sales Executive.
There's a superb selection of high-quality homes currently available at Rufford Grange, with three-bedroom properties priced from as little as £135,995 and four-bedroom houses from just £149.995.
Rufford Grange enjoys a convenient location close to a host of everyday amenities in the popular village of Rainworth, including local shops, pubs, restaurants and a leisure centre with swimming pool, fully equipped gym and fitness studio, sports hall and squash courts.
For a wider choice of facilities, Mansfield and the popular Four Seasons Shopping Centre are just four miles from the development, while Nottingham, one of the nation's most vibrant shopping, leisure and entertainment destinations, is only 13 miles away.
Parents will appreciate that primary schools are located within easy reach of the development and Joseph Whitaker Secondary School, a Specialist Sports College, is also nearby.
For commuters, the A617 Rainworth Bypass is easily accessible from Rufford Grange, offering quick routes to Mansfield, Nottingham and the M1. Regular direct rail services operate from Mansfield station to Nottingham in around 35 minutes.
To find out more about the new homes at Rufford Grange, property-seekers should visit the Sales Centre, located off Kirklington Road, Rainworth, and open 5 days a week, Thursday to Monday, from 10.30am to 5.30pm. Alternatively, visit taylorwimpey.co.uk.