Taylor Wimpey falls from the sky at Melksham Party in the Park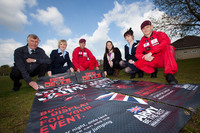 Leading house builder Taylor Wimpey is entering into the festival spirit by sponsoring a spectacular Red Devils free fall display at this year's Melksham Party in the Park.
The exciting display will take place on Saturday 26th May as part of the Party in the Park event. The Red Devils free fall parachute team will plunge from the sky carrying a giant Taylor Wimpey banner, before landing amongst festival goers.
This will be the 13th year of Party in the Park and organisers say the event is set to be a fantastic occasion once again with lots of music acts, entertainment and activities for all the family to enjoy. The Red Devils are the UK's elite freefall team from the Army's famous Parachute Regiment and their display will be a spectacular highlight of the event.
Richard Goad, regional sales and marketing director for Taylor Wimpey Bristol, commented: "We are thrilled that we were able to sponsor the Red Devils parachute team, we are really looking forward to watching their display and enjoying the festival. The Melksham Party in the Park is always a great community event and I'm sure this year it will be as popular as ever."
Party in the Park organiser, Tom Sangster, said they were absolutely delighted that Taylor Wimpey had offered to sponsor the event. "The Red Devils inclusion will be spectacular for our Party in the Park and will be a real highlight of the day. We are extremely grateful to Taylor Wimpey for their generous support and we wish them all the best with their Melksham development"
Taylor Wimpey will also be celebrating the opening of its new Weavers Gate development in Melksham on Saturday 26th May. The development, which will offer two, three and four bedroom homes will be located off Sandridge Common and will cater for a wide range of purchasers from first time buyers through to growing families.

For further information about the Melksham Music Festival and the Party in the Park, visit melkshammusicfestival.co.uk.
For more information on the up and coming development, visit taylorwimpey.com.