Seat adds Spanish flavour to GTI Treffen 2012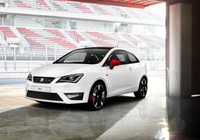 SEAT is once again a star attraction at the exciting GTI Treffen event at Wörthersee in Austria, with a host of head-turning models that reinforce the Barcelona brand's dynamic character.

The annual hot-hatch fest, which takes place in the Austrian state of Kärnten, is being held from 16 to 19 May – and SEAT is treating the vast crowds to six particularly fiery variants of the Leon, Ibiza and, for the first time, the Mii. In their full racing gear, track cars the Ibiza SC Trophy and Leon Super Copa are at the core of the SEAT display's racing theme, while the Mii show car in FR Line configuration appears at GTI Treffen for the first time. For this year's extravaganza – already in its 31st year – the organisers are predicting to host around 120,000 visitors over the four days of the show.

Ibiza Cupra Concept is the star
The focal point of the SEAT stand – which has been created in line with the brand's new visual identity – is the Ibiza Cupra Concept, a close-to-production glimpse of the new generation of this sporty SEAT icon. Just back from its world premiere at the Auto China Show in Beijing just a few weeks ago, the model's 1.4 TSI packs 180 PS with looks to match the promise of that award-winning motor. The Spice Yellow paintwork contrasts with gloss-black exterior mirrors and 17-inch alloy wheels, with red brake callipers shimmering through the spokes. A particularly large trapezoidal lower air intake emphasises the breadth of this compact sports car, while the angular lines of the headlamps underscore SEAT's new design philosophy.

Ibiza FR and Leon Cupra R in individual design
One Ibiza and one Leon, each painted in Nevada white, showcase in their individual designs a host of options from the SEAT accessory range. The Ibiza FR on display in Reifnitz proudly wears 17-inch wheels in black and polished silver, exterior mirrors and brake callipers painted in red, and an enlarged rear spoiler. Red accents also dominate the interior. On the Leon Cupra R, visual drama comes courtesy of the glossy black rims which contrast perfectly with the ice-white paintwork. Like the Ibiza FR, the eye is also drawn to the red colour of the brake calliper nestling behind each alloy wheel. Inside, piano black lacquer trim inserts make for a stylishly sporty ambience.

Pimp my Mii – tuning for SEAT's baby
For the first time, SEAT is showing a Mii with an added injection of sporty character. The Tornado Red city car turns heads with its powerful presence, complete with black highlights on the wheelarches, an additional spoiler accent and black 16-inch aluminium wheels. Red and black elements make their mark in the interior, too. The sports seats with fully integrated head restraints come with distinctive red FR lettering.

Ibiza SC Trophy and Leon Super Copa for the race track
Two further showpieces hold a licence to compete on the track – the Leon Super Copa and the Ibiza SC Trophy. They are shown at the Wörthersee festival with a special grey paint finish and wheels, while the mirror casings and roll cage are in fluorescent orange.

The Ibiza SC Trophy is now based on the new generation of the Ibiza and is fitted with the 180 PS 1.4 TSI engine. The seven-speed DSG transmission is operated from the steering wheel, as will be the case on the series-production model, while a locking differential guarantees amazing traction. For the high lateral forces that occur under serious racing conditions, the engine comes with a modified oil sump, a powerful brake system and racing suspension running on 18-inch wheels housed under noticeably flared wheel arches. Inside, the dashboard is more minimalist than the series-production version and provides only data truly relevant to racing drivers. The Ibiza SC Trophy is offered by SEAT Sport for 31,500 Euros (excl. tax) and is the ideal starting machine for amateur racing drivers. Single-brand race series are currently running very successfully in Spain and Italy.

At a price of 63,000 Euros (excl. tax), the 250 km/h Leon Super Copa represents the more senior league of SEAT Motorsport. Based on its sibling racer from the WTCC, more than 250 units of this model have already been built. The cup car is powered by an uprated version of the 2.0-litre TSI engine from the Leon Cupra R that produces 300 PS. A maximum of 340 Nm of torque travels through a six-speed DSG transmission and mechanically locking differential to the front wheels.

VIP party on the SEAT boat and chill-out zone
The many peripheral events organised by SEAT at the GTI Treffen include a VIP party on the SEAT boat, which will also serve on Thursday as a shuttle service over the lake. During the entire duration of the event, DJs on both the SEAT stand and SEAT boat will be lining up hot music to accompany cool drinks.

The SEAT movie team is also once again on-location. Alongside video productions for the media and Web, it will be making short films with owners of the most eye-catching examples of SEAT tuning and uploading them later to the Facebook page of SEAT Austria.

The stand is designed in line with the new SEAT corporate identity. In bright white with light colours and featuring the diagonal line as a dynamic design theme, it conveys the youth and emotional character of the brand – like the entire SEAT presence at Wörthersee.