Aston Martin Works hosts Bonhams sale at Newport Pagnell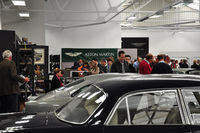 The first event to be held at Aston Martin Works in Newport Pagnell since its refurbishment following a major investment programme, was the annual Bonhams Aston Martin sale. The sale, attended by 2,000 bidders and enthusiasts, achieved a record total, with 47 cars and associated automobilia sold for in excess of £6.5 million.

On Saturday 19th May Bonhams came to Aston Martin Works for the 13th annual auction of heritage Aston Martin cars and associated automobilia. Over 200 lots including a fascinating selection of historical documents, parts and other automotive memorabilia and 47 Aston Martin cars came under the hammer.

The star attraction, a DB4GT Zagato Sanction II Coupe, was sold for £1.23 million – this is the second million pound plus car ever sold at the Aston Martin sale. Second highest price in the sale was £611,900 for a 1962 Aston Martin DB4 Vantage Convertible, followed by the third highest, £488,700 for a 1963 Aston Martin DBS Convertible. A unique DBS Estate went for £345,000.

Kingsley Riding-Felce, Managing Director of Aston Martin Works said "This record sale clearly demonstrates that the keen interest the market has in heritage Aston Martin cars remains strong year-on-year. It is also proof that the value of our heritage models remains robust despite a weak global economy.

"The format of a single marque auction is something pioneered by Bonhams and ourselves, and we continue to be flattered by other marques following suit. This is the 13th consecutive Bonhams sale held at Newport Pagnell and we are so pleased that we were able to welcome everyone to our revitalised and remodelled home following the investment in the site."

After an extensive development programme carried out over six months, the historic home of Aston Martin Works now boasts a beautiful new Aston Martin dealership, 10-car showroom and 13-bay service workshop. The Heritage Centre remains an 'Aladdin's Cave' – a treasure-trove of cars, craftsmen and re-born sports cars which have been through the loving restoration process.

"Over 2,500 cars pass through our workshops each year," Kingsley said, "and with our ability to now sell, as well as service, repair and restore every Aston Martin ever built, this facility is ideally placed to offer our customers a 'one-stop-shop.'

"We are looking forward to being more than just Aston Martin Works at Newport Pagnell. Our aim is to be the destination for Aston Martin owners to visit whenever they wish, knowing they will always be welcome."

Following the sale, James Knight, Group Director of the Bonhams Motoring Department who auctioned the cars said: "This was a tremendous sale for us and for Aston Martin. As well as achieving record prices and selling the 'talisman car' the Sanction II Zagato, this event shows just how strong both brands – Bonhams and Aston Martin – are in the heritage car market."

After the success of the Bonhams sale, traditionally regarded as the opening event of the classic car calendar, Aston Martin Works will host owners visiting the Silverstone Classic in July and will also have a presence at the Goodwood Revival meeting in September.