Transformers: The Ride-3D now open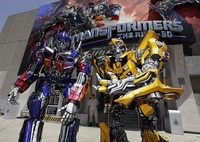 Epic, new 3D-HD mega-attraction, "Transformers: The Ride-3D," celebrates premiere at Universal Studios Hollywood, as The Entertainment Capital of L.A. debuts the next generation of immersive themed rides.
"Transformers: The Ride-3D" based on the iconic brand from Hasbro and electrifying film franchise directed by Michael Bay, celebrated its premiere at Universal Studios Hollywood, as The Entertainment Capital of L.A. heralded the arrival of the first-ever, highly inventive theme park ride inspired by Hasbro's pop culture Transformers phenomenon.
The high-profile premiere was attended by Universal Studios President and COO, Ron Meyer; Universal Studios Hollywood President, Larry Kurzweil; Universal Parks & Resort Chairman, Tom Williams, and NBCUniversal Chief Executive Officer, Steve Burke. Also in attendance were Oscar-winning filmmaker Steven Spielberg, "Transformers" film star Glenn Morshower, who appears in the ride, Frank Welker, who voices the ride's MEGATRON character and Peter Cullen, who voices the ride's OPTIMUS PRIME character..
As Universal Studios Hollywood's most ambitious ride ever ,"Transformers: The Ride-3D" fuses original 3D-HD media, elaborate flight simulation technology and cutting edge special effects with spectacular action sequences and an inventive storyline to immerse guests in the action-packed world of Transformers.
A technological achievement, this pulse-pounding breakthrough thrill-ride propels guests along 2,000 feet of ride track, where they are surrounded by 14 gigantic screens, many fully engulfing them at heights of 60 feet.
Helmed by a roster of Hollywood heavyweights, this monumental tour de force was a collaboration between creative consultant and filmmaker Michael Bay, the Oscar-winning technical luminaries at Industrial Light & Magic, the TRANSFORMER brand stewards at Hasbro, Inc. and the award-winning, progressive and inspired minds at Universal Creative.
In the "Transformers" movies, Earth's humans are caught in the middle of an intergalactic war between alien robots, the heroic AUTOBOTS and the evil DECEPTICONS that physically convert from common mechanical devices, such as cars, trucks and planes to robotic warriors.
Larry Kurzweil, President, Universal Studios Hollywood, said: "Transformers represents a perfect match for our theme park: an exhilarating blockbuster, non-stop action and astonishing special effects. It has all the elements to become one of the world's most dynamic theme park thrill rides and a centrepiece attraction at Universal Studios Hollywood."
Mark Woodbury, President, Universal Creative, said: "We've pushed the boundaries of 3D, hyperrealism and immersive visual effects to transport our guests, physically and viscerally, into the world of Transformers. Our collaboration with the immensely talented director Michael Bay as the ride's Creative Consultant has been extraordinary. With his blockbuster film making capabilities, Universal Studios Hollywood has created an original Transformers story that taps into the real heart of these bigger-than-life characters and delivers an epic ride experience of a lifetime that will thrill guests from around the world."