Aspendos Opera and Ballet Festival gets under way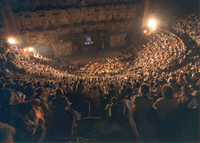 Those planning to visit Antalya's acclaimed Aspendos Opera and Ballet Festival can now fly direct from London Stansted to Antalya, thanks to private Turkish airline Atlasjet.
Now in its 19th year, the Aspendos Festival has grown to become one of Turkey's best-loved cultural events. Not least because of its awesome setting, an impressively well-preserved, 20,000-seater Roman theatre built during the reign of Marcus Aurelius in the 2nd century AD. Antalya provides the perfect climate for outdoor spectacles with temperatures already well into the high 20s.
Though the Festival kicks off on 14 June, this year's programme boasts a wider spread of dates than usual, with a handful of performances scheduled to take place in September. Highlights include an appearance by the Estonian National Opera (20 June), plus a performance of Madame Butterfly by the Beijing and Samsun Operas (3 September).
The programme can be viewed in full at aspendosfestival.gov.tr.
Atlasjet's convenient weekly Saturday daytime departures and fully inclusive fares offer an altogether more civilised way of getting to the Aspendos Festival. Return EkonomiPlus fares during the Festival start from £211. Book online at atlasjet.com.