Pipercross VW T4 panel filter range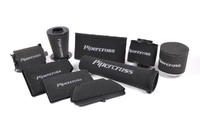 Performance filtration specialist Pipercross has provided the perfect breathing solution for every variant of Volkswagen's versatile T4 line-up. In a range that covers every petrol and diesel model from 1990 through to 2003, each different Pipercross filter is a direct replacement for the OEM part on these models. All filters fit directly into the factory airbox, maintaining the original induction tract, whilst improving performance.
Pipercross filters have been designed up to a desired quality, rather than down to a designated price. Flowing over 30% more air than the factory part, these beautifully made filters can make significant improvements in power, torque and driveability and come with a full lifetime warranty to give decades of faithful service. Importantly, for one of the industry's most hard-worked platforms – and one very likely to spend time near the beach - the open cell construction of the Pipercross foam filters has a much higher dust handling capacity than any paper or cotton gauze equivalent.
The unique multi-layered foam construction not only means a higher rate of flow, it also mean that, compared to even the leading cotton-gauze replacements, Pipercross foam filters can go for up to three times longer before needing any servicing or cleaning. This can be done indefinitely for the life of the filter.
All 1.8, 1.9, 2.0, 2.5, 2.4, 2.5 and 2.8 litre petrol, diesel and turbo-diesel engines are catered for at prices that start from just £35.99 including VAT.

Visit pipercross.com for more information.