Mallorca's hidden beaches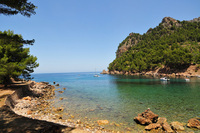 The Balearic island of Mallorca is one of Britain's favourite holiday hotspots. And as high season approaches, there's a good chance of crowded beaches. As such, accommodation specialists, Mallorca Farmhouses, who have over 23 years of experience and insider knowledge of the island, have provided their top secluded beaches in Mallorca from crowd-free hidden bays to quiet coves in the mountains.
Es Caragol is a long 500m stretch of unspoilt white-sand beach backed by sand dunes with crystal clear water in shades of blue and turquoise and, most importantly, peace and quiet. The reason it's so quiet? It's a 30-minute walk from the nearest car park and the beach has no restaurants or facilities so take plenty of water and a packed lunch.
Find it: Located in the south of Mallorca, approx. 20 minutes' drive southwest from Santanyi, Es Caragol, also known as Platja des Caragol, is about seven kilometres from the city Ses Salines. Park at Cap de Ses Salines by the lighthouse and walk 30 minutes northwest along the seashore and across rugged but beautiful terrain to reach the beach.
Stay: Aljup de Son Amer is a cute one-bedroom cottage on the outskirts of the charming little village of Es Llombards, just south of Santanyi. Prices start from £578 per week in 2012, sleeping two.
Es Carbo has a vast expanse of 1.5km of powdery white sand that sits on a protected bay with calm seas, ideal for children. The beach is deep so there's always plenty of space to lie on the sand and once again, there are no facilities here, just wild nature and Mallorca at its best.
Find it: Located in the south of Mallorca, by the low-key resort of Colonia Sant Jordi, about 13km west of Santanyi. Follow the path from the marina at Colonia Sant Jordi to the east and walk 30 minutes passing another small but lovely beach, Es Dolc, and an old fisherman's cottage. The next headland marks the beginning of Es Carbo beach.
Stay: Finca Angoixes is a large six-bedroom restored farmhouse on the outskirts of the traditional village of Cas Concos, just north of Santanyi. Prices start from £747 per week in 2012, sleeping 12.
Cala Tuent is a semicircular 180m sand, pebble and shingle beach in a very dramatic setting surrounded by mountains and thick pine woods. The water is incredibly clear and good for snorkelling among the rocky edges of the shoreline. The remote location ensures plenty of space on the beach, even in peak summer. And although the beach itself has no facilities, there's a restaurant, Es Vergeret, up the hill which can be reached by car and offers Spanish dishes and excellent views.
Find it: Located in the northwest of Mallorca, approx. 50 minutes from Pollenca. Drive towards the more popular tourist spot of Sa Calobra on the MA-2141, then turn off left to Cala Tuent. The track to the beach is uneven, narrow and steep, but the ear-popping journey is well worthwhile. A small parking area is available at the bottom.
Stay: Ca'n Picassa is a remote three-bedroom farmhouse tucked away in the Pollenca Hills. Prices start from £828 per week in 2012, sleeping six.
Mallorca Farmhouses offer a selection of private villas, cottages and converted farmhouses, all with a private pool and maid service. For further information, visit mallorca.co.uk.