Rossetts to launch new Actros at Festival of Speed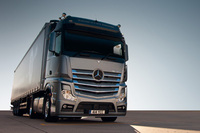 It's one of the most exciting events on the calendar for car and motorcycle enthusiasts – but those attending the 2012 Goodwood Festival of Speed will also be able to see the very latest in truck and van technology, courtesy of local Mercedes-Benz dealer Rossetts Commercials.
Highlight of the event for the Rossetts team will be their launch of the New Actros premium heavy truck range. The reigning International Truck of the Year, New Actros sets previously unseen standards for comfort, driving dynamics and efficiency.
The Goodwood Festival of Speed is staged in the grounds of Lord March's stately home near Chichester, West Sussex, and attracts daily crowds of more than 100,000 people – this year's event takes place from 28th June-1st July, when priceless Mercedes-Benz racing cars from down the years will once again be among the star attractions.
Dominating the Rossetts stand will be three vehicles from the New Actros range – a pair of 6x2 tractor units with StreamSpace and cavernous GigaSpace cabs, and the UK's first New Actros rigid, a 26-tonne 2545 L ENA model in the colours of leading customer Arthur Spriggs & Sons, of ewkesbury.
Anyone booking a New Actros test drive over the four days will be entered into a prize draw – fittingly, given the high-octane theme of the Goodwood Festival of Speed, the winner will be treated to a thrilling AMG Driving Experience at the Mercedes-Benz World brand centre in Surrey.
Rossetts will also be presenting four Mercedes-Benz van models, including a zero-emission Vito E-CELL, the world's first battery-powered light commercial vehicle to be built on line at a mainstream production facility, and a natural gas-powered Sprinter NGT, which can also be operated on a carbon-neutral basis.
With its fire-breathing, 224hp V6 engine, 18-inch alloy wheels and dynamic Brabus body styling, the Vito Sport-X is sure to appeal to many of the motorsport enthusiasts who throng to the Festival, while a Sprinter 4x4 completes the van line-up.
Bringing an added touch of glamour to the Rossetts stand will be The Spinnettes, a three-girl group who will be recapturing the music of the 1940s, '50s and '60s in a series of performances over the weekend.
Rossetts Commercials Sales Director Brian Phippen declared: "Mercedes-Benz committed over €2 billion to the development of New Actros, a process that began a decade ago with the proverbial blank sheet of paper. The result is a vehicle that represents nothing less then a new dimension in truck technology.
"So it deserves a high-profile launch pad – and where better for Rossetts than a massively popular event like the Goodwood Festival of Speed, which draws huge crowds of automotive enthusiasts from all over the world, but takes place right on our doorstep."
Rossetts Commercials will be taking stand R11, which is in the lower showground at this year's Festival.
Also appearing once again at Goodwood will be the Bloodhound land speed record attempt team, who are sponsored by Rossetts Commercials and will be presenting the full-sized show version of their awesome, rocket-powered car.
With headquarters in Worthing, and other outlets in Aldershot, Crawley and Eastbourne, Rossetts Commercials is a leading member of the Mercedes-Benz commercial vehicle network, and a two-time winner in recent years of the manufacturer's prestigious Dealer of the Year title.