Suzuki Alto SZ City car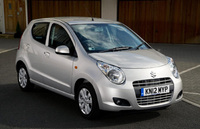 Available to purchase from Monday 2nd July, Suzuki's stylish and fun to drive Alto SZ City car will be available for just £5,995 VAT free until 30th September under Suzuki's latest affordability offers and representing a further £670 customer saving over previous Alto campaigns. With outstanding performance in terms of fuel efficiency and CO2 emissions, Alto meets the lifestyle needs of today's motorists and the pressing need for a reduced impact on the environment.

The latest campaign aims to help drive Suzuki sales even higher into Quarter 3 which are currently more than 18 per cent (1,700 units) up year on year to date. The sales projection for Alto is 8,000 units for full year and it is the second most popular model in the range with more than 63 per cent of prospective customers purchasing Alto after test driving.

The recently revised Alto Minor Change model includes Dual VVT (Variable Valve Timing) for greater engine flexibility and response. This modification resulted in further reductions in CO2 emissions as well as improvements to fuel economy.

The latest model incorporates a new design interior colour and fabric trim, new full wheel covers for SZ and SZ3 models and dipping rear view mirror. Glistening Grey metallic has also been added to the range as an optional colour.

Alto with manual transmission emits just 99g/km CO2 and is therefore exempt from the London Congestion Charge bringing a potential annual cost saving of £2,600 to a commuter travelling into the Capital five days a week.

The engine achieves a maximum torque of 90Nm/66lbft at 3,400 rpm, an EC combined fuel consumption of 65.7mpg and CO2 emissions of 99g/km. These figures make Alto one of the cleanest petrol-powered City cars on sale in the UK.