Proms sparkle with Shloer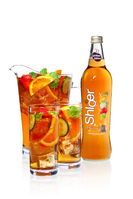 Across the UK, many 15 and 16 year olds will soon celebrate completing their GCSEs with a glittering American-style school prom – occurring at the rate of up to ten a day in June and early July.
After the perfect prom dress and stretch limo, Shloer is the ideal way to bring some sparkle to the important pre-prom fun. This summer, Shloer's White Grape, Red Grape or limited edition Fruit Punch flavours are the perfect addition to prom parties, adding a sophisticated sparkle to the evening.
Shloer, makers of sparkling juice drinks, has seen this trend grow quietly over the last few years with scores of companies setting up nationwide to service this single annual event. One specialist prom dress provider is reported to sell 3,000 girl's outfits in one season alone, with mums and daughters travelling for hours to try their dresses.
With an average £244 invested in a posh frock or tuxedo and salon visits, the highlight of proceedings is often the arrival of a stretch limousine or horse-drawn carriage to carry excitable prom-goers to venues that range from their secondary school to country clubs or even Old Trafford. The cavalcade attracts many spectators who line the streets to see prom guests arriving for their 'red carpet moment'.
For many youngsters it is their first formal social occasion and, following terms of hard work, a great opportunity to celebrate in style. Hours of preparation go into the perfect prom night and many students congregate at one house hours before to get ready together.
It's all in the serve
In keeping with prom night, Shloer Fruit Punch is best served 'dressed to impress' in a jug with plenty of fruit (such as strawberries, cucumber, orange slices) and ice - the perfect beverage for young prom goers to share.
Shloer is a refreshingly original premium soft drink option
Shloer uses only the best ingredients to create a delicious sparkling juice drink. All varieties are ideal for prom-goers looking for occasion-worthy refreshments. Shloer contains no preservatives, artificial colours, sweeteners or flavourings and is available from all major supermarkets.
A flavour for everyone
Shloer is available in White Grape, Red Grape, Rosé, Apple & White Grape, White Grape, Raspberry & Cranberry, White Grape & Elderflower and new Fruit Punch - RRP £2.29