Alfa MiTo now available with TwinAir engine technology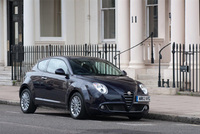 Alfa Romeo's sporty supermini, the Alfa MiTo, is now available with the multi-award winning 85hp TwinAir engine – an 875cc twin-cylinder turbo powerplant with electro-hydraulic valve control technology that delivers outstanding fuel economy with sub-100g/km CO2 emissions.

The introduction of the two-cylinder TwinAir engine into the Alfa MiTo range reinforces the MiTo's image as a high-tech, sporty, compact car offering maximum driving pleasure whilst exceeding driver expectations.

With a CO2 output of just 98g/km and official Combined Cycle fuel economy of 67.3mpg, the Alfa MiTo TwinAir is the cleanest and most economical model in its class. Business and retail customers can enjoy impressive financial benefits including zero road tax, the lowest 10% BIK rate, London congestion charge exemption and Group 9 insurance rating.

The 85hp TwinAir Turbo is the first of a series of two-cylinder engines developed by Fiat Powertrain.

Complementing the introduction of the new powerplant, the MiTo TwinAir range is available in a new metallic body colour – Ametista Black with a purple hue.

Damien Dally, Head of Brand, Alfa Romeo UK says: 'The Alfa MiTo TwinAir is an intelligent response to modern driving requirements – premium styling, a sporty and engaging driving experience, combined with outstanding ecological and financial benefits. It's the last word in automotive engineering in terms of technology, performance and environmental consideration.'
Official Praise For TwinAir

Key to the Alfa MiTo's innovative success is the marriage between two award winning technologies; the two-cylinder TwinAir engine, and MultiAir – winner of Best New Engine of the Year 2010.

Already a proven success, the TwinAir engine dominated the 2011 International Engine of the Year Awards, winning Engine of the Year, Best New Engine, Green Engine of the Year and Best Sub 1-litre Engine. This is only the second time that a sub 1-litre engine has taken the top award, with the judging panel praising the powerplant's impressive innovation.

Environment & Economy

The perfect engine for urban driving, TwinAir boasts lively and enjoyable petrol engine performance with the consumption and running costs of a frugal diesel.

The MiTo TwinAir is the cleanest and most economical model in its class, (3-dr, B-segment, petrol), with Combined Cycle fuel economy of 67.3mpg; CO2 emissions of just 98g/km, a zero road tax rating and just 10% BIK – the lowest possible banding meaning company car drivers can pay as little as £23.49 a month and save the 3% premium they would pay for an equivalent sub 100g/km diesel.

Thanks to the 100% capital allowance on cars with CO2 emissions lower than 110g/km, companies are able to write off the whole cost in the first year, as opposed to 20% per year, bringing down the amount subject to corporation tax and significantly reducing a company's liability.

The low CO2 emissions mean London drivers also benefit from congestion charge exemption, potentially saving around £2,500 a year.

Performance & Dynamics

Alfa MiTo takes everything Alfa Romeo knows about sports car dynamics and distils it into one head-turning supermini. Now, the world's sportiest compact car is even more enjoyable to drive, thanks to the introduction of the revolutionary 85 hp TwinAir Turbo engine.

The MiTo TwinAir's sporty and environmentally compatible powerplant uses MultiAir technology combined with specific fluid dynamics optimised for maximum fuel efficiency.

The adoption of a small turbocharger results in excellent performance and, above all, great flexibility and response for a rewarding drive.

The 875cc TwinAir Turbo engine, mated to a close ratio 6-speed gearbox, delivers a maximum of 85hp at 5,500 rpm and a torque of 145Nm at 2,000 rpm. Maximum torque is available from 2,000 rpm and is constant up to 3,500 rpm – between 10% and 25% more torque when compared to the 105 and 78hp petrol engines in the current range.

The MiTo TwinAir combines sporty performance with one of the most efficient drivetrains on the road today. Thanks to the Start&Stop device and 'intelligent' alternator, the MiTo with TwinAir engine has the lowest petrol CO2 emissions in its segment at just 98 g/km – up to 30% less than an engine with equal performance – combined with a dramatic reduction in fuel consumption.

The TwinAir Turbo engine also features a series of modifications intended to further improve both the level of comfort and the quality of driving.

Technical refinements include a state-of-the-art flywheel and optimisation of the elements supporting the power unit, ensuring great acoustic comfort and freedom from vibration in all driving conditions.

Modifications have also been made to the process of combustion, adopting an exhaust system with increased diameter, specially designed to enhance response to acceleration requests while lending character to the engine sound.

Only on the Alfa MiTo does the innovative TwinAir engine constantly interact with the Alfa D.N.A. selector, allowing drivers to choose how the engine operates and responds – at the flick of a switch.

A simple movement allows the driver to select a more sporting and dynamic drive (Dynamic) or a more economical mode, aimed more towards reducing consumption (Natural). In extreme conditions the driver can also select a low grip setting (All Weather).

Depending on the position selected, the calibration of the engine control unit varies, with a 35 Nm reduction in torque (from 145 in Dynamic mode to 110 Nm in Natural mode).

Pricing & Trim Levels

The new Alfa MiTo TwinAir is available in two trim levels – Sprint and Distinctive – priced at £14,150 and £15,350 respectively.

A generous standard specification on the Sprint trim level includes 16-inch sports alloy wheels, cruise control, front fog lights, manual climate control, Alfa D.N.A. (driving mode selector) and Alfa's Blue&Me system with Bluetooth®- hands-free connectivity and USB media system.

The Distinctive trim level also benefits from standard premium features including 17-inch sports alloy wheels, red painted Brembo brake calipers, rear parking sensors and chrome/aluminium detailing.

In addition to the model's impressive new drivetrain, the MiTo TwinAir is available in a new metallic Ametista Black body colour with a new design for the light alloy rims and a completely revamped interior.

Alfa Services

All new UK Alfa Romeo cars sourced from Alfa Romeo UK come with 3 years' AA Contact, which includes Roadside Assistance, Home Start, Relay, Relay Plus, European Cover and Accident Management. This insured service is provided free of charge and is available 24 hours a day, throughout the year and also includes access to travel information, legal advice and technical information.

For peace of mind, all Alfa Romeo UK cars are covered by a 3-year unlimited mileage warranty, including parts, materials and labour. This comprises a 2-year unlimited mileage Manufacturer's Warranty plus an additional 1-year unlimited mileage Dealer Warranty. However, a promotional 5-year warranty is currently available to retail customers until 30 September 2012.