Rolls-Royce welcomes China Entrepreneur Club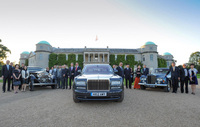 Members of the China Entrepreneur Club were welcomed to the Home of Rolls-Royce Motor Cars today at the start of their first visit to Great Britain. The 30-strong delegation includes the elite of the Chinese business community, occupying prominent places in the national Chinese economy.

The leading manufacturer of super-luxury cars was the natural location to launch the 10-day showcase for British business approaching the London Olympic Games, which will include meetings with Tony Blair, Lord Rothschild, Richard Branson and a broad range of British companies and organisations.

The China Entrepreneur Club (CEC) was established in December 2006 and was launched by 31 of the most influential entrepreneurs, economists and diplomats in China. CEC members are the most vigorous representatives in the new Chinese economy and are pioneers in promoting Corporate Social Responsibility among Chinese enterprises. The CEC limits itself to 60 members from different industries and last year the members' combined revenues totalled around £200 billion.

"I am delighted to welcome our guests from the China Entrepreneur Club and honoured that they have chosen the Home of Rolls-Royce as their first port of call during their visit to Great Britain," said Torsten Müller-Ötvös, Chief Executive. "Rolls-Royce continues to grow sustainably and China is very important to this ongoing success story. Chinese customers understand the Rolls-Royce brand, they love heritage and they also have a deep understanding of the value of craftsmanship and skills that are passed down through many generations."

In 2011, China became the leading sales region for Rolls-Royce Motor Cars worldwide for the first time, narrowly beating the United States to the top spot. The best-selling dealership was also located in the region, with Beijing leading the league table.