Mocktails add extra sparkle to Asian weddings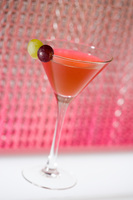 The summer Asian wedding season is now in full swing and what better way to add more sparkle to the celebrations than with Shloer, the sparkling juice drink.
Asian weddings are a mainstay in the social calendar for the whole community. Whether served on the big day or at the fun-filled Mehndi celebrations, Shloer is a refreshing alcohol alternative to other traditional drinks.
Shloer is a special occasion, non-alcoholic beverage that will add sparkle to the celebrations and the range of refreshing flavours available will appeal to young and old alike.
Shloer Mocktails add an extra special sparkle, so why not try the delicious recipe for a Shloer Cosmo?
Shloer Cosmo

This non-alcoholic version of the sex in the city classic treats your taste buds to white grape, raspberry and cranberry Shloer and a shparkle of red grape Shloer, shaken with freshly squeezed orange and lime juice, flambé orange zest and grapes to garnish. Serve in a traditional martini glass for extra impact.