Jaguar Land Rover announces 1,100 new jobs in the UK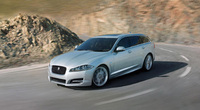 Jaguar Land Rover (JLR), the UK's largest automotive design, engineering and manufacturing employer, will expand its workforce at its advanced manufacturing facility in Castle Bromwich to support the launch of new Jaguar models.

More than 1,100 new jobs are being created, and a recruitment campaign for production operators is being launched today.

Dr Ralf Speth, Jaguar Land Rover CEO, said: "Innovation in design, engineering and technology is at the core of our business and for the UK, this means we will continue to invest in new products, develop new technologies and enhance the skills of our employees.

"The launch of our latest Jaguar models, including the new XF Sportbrake later this year, means it is a very exciting time for Jaguar. These new models will attract new customers to the brand as we look to expand our global reach and further enhance our position in the market."

Commenting on the new jobs, Des Thurlby, HR Director at JLR said: "We have embarked on the most ambitious recruitment campaign in the company's history, hiring 8,000 people in the last two years. We provide high quality training and development for all of our employees so this latest announcement for 1,100 jobs is great news for the West Midlands and the UK supply chain."

JLR anticipates that the launch of these new Jaguar models will also support thousands of jobs in the UK supply chain.

Business Secretary Vince Cable, said: "This is fantastic news for Castle Bromwich that Jaguar Land Rover is creating more than 1,000 jobs to support the production of new models at the plant. This expansion is a clear demonstration of Jaguar Land Rover's continuing commitment and investment in the UK."

As part of JLR's ambition to deliver 40 significant product actions over the next five years, the Castle Bromwich plant will this year manufacture the new 2013 Model Year XF and XJ ranges which - through the introduction of new powertrains and transmissions - offer customers greater efficiency, technology and choice than ever before. The XF range will also see the addition of the XF Sportbrake derivative which, with a load capacity of up to 1675-litres, will be the most versatile Jaguar built to date.

In the first six months of the year, Jaguar has sold more than 29,000 vehicles globally, which is a 19 per cent increase against the same period last year. All of Jaguar's key markets, including China, UK, USA and Europe, have delivered year on year sales improvements.

Individuals interested in applying for these and other current vacancies at Jaguar Land Rover should do so by visiting: jaguarlandrovercareers.com.