Christmas comes early for new Volkswagen van buyers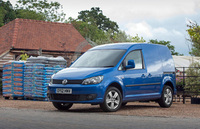 Your ears have not been deceiving you if you have heard a Christmas carol on the radio in July, as Volkswagen Commercial Vehicles has an unseasonal touch of humour with a choral version of the carol 'Jingle Bells' in its current radio advert announcing a finance offer of £199 a month (plus deposit and initial rental) for a new Caddy van, including a £400 deposit contribution from Volkswagen.

'We wanted our radio advert to really stand out and highlight how affordable a new Volkswagen van is, so what could be more surprising and attention grabbing than playing a Christmas carol in July?' explained Rachael Craig, Marketing Communications Manager, Volkswagen Commercial Vehicles.

'This summer is all about celebrating the jubilee and the countdown to the Olympics, but with the unseasonal weather the Christmas theme seems rather appropriate!' she continued.

The latest finance offers from Volkswagen Commercial Vehicles are available until 30 September, and include another Caddy offer of a £1,000 deposit contribution for hire purchase and lease purchase options combined with a low 3.9 per cent interest rate.

For its bigger vans, Volkswagen's finance offers include contract hire or finance lease rates from £239 a month (plus VAT and initial rental) for a Transporter, or £309 a month (plus VAT and initial rental) for a Crafter – including £500 and £1,000 deposit contributions respectively. Alternatively, Crafter buyers can also take advantage of a generous £2,000 deposit contribution with hire or lease purchase.

Full details of the finance offers and the Caddy, Transporter and Crafter ranges are available at volkswagen-vans.co.uk.