Mountain bike adventure in the Himalayas of Nepal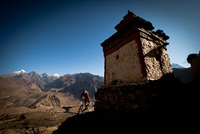 Mountain biking at a height of 3,900m, in the Kali Gandaki Valley of Nepal, you're still dwarfed by the massive bulk of the Himalayas towering over you; watching, waiting.
This is the highest point reached during this new 12-day mountain bike tour in Nepal, from mountain bike holiday specialists H&I Adventures.
You'll ride through the deepest valley in the world, surrounded by five-mile-high peaks, on an adventure that marries natural grandeur, local culture, and relative luxury in a union found nowhere else in the world. Each night you'll stay in small, family-run hotels or local tea houses where you'll enjoy delicious home-cooked meals and a warm welcome.
From the awesome majesty of the Himalayas, to the generosity of the Nepali people who invite you into their homes to share tea with them on their rooftops. From the chaos of Kathmandu, to the peace and focus you'll find riding over a rope bridge hung with prayer flags. Here on the roof of the world you'll experience 'the most emotional mountain biking of your life'.
Prices start at £1,630 (ex.flights) and places are still available on their October tour (8th - 19th). Dates have also been confirmed for April and November 2013.
For more information visit H&I Adventures' website at mountainbikeworldwide.com/bike-tours-nepal.