Suzuki Financial Services - launch of Contract Hire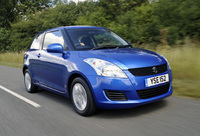 Suzuki Financial Services has announced the launch of its new Contract Hire relationship this month, in partnership with its long established finance provider Black Horse.

There are currently 66,000 Contract Hire customers in the UK operating 1.5 million vehicles and with a growing appetite for rental products in the marketplace a dealer-based Contract Hire product will provide Suzuki with an ideal opportunity to reach new business customers, particularly when around 20 per cent are companies operating 40 or fewer vehicles.

Suzuki Contract Hire will provide definite growth opportunities with potential customers in local communities such as estate agents, solicitors and accountants. These professions are all potential viable customers for Contract Hire or Personal Contract Hire (PCH).

PCH can prove to be an attractive option for the retail customer or employee who has opted out of their firm's company car scheme or wants a worry-free monthly payment option which may come with full maintenance.

Suzuki Financial Services General Manager, Gary Dixon said: "Black Horse created a new PCH product specifically for private individuals and, with our partners at Lex Autolease, a Contract Hire product for business users, including fleet operators.

"Both products offer customers – individuals or business customers – the opportunity of a fixed cost, flexible term, low-risk rental agreement, which can be easily arranged with dealers.

"Once the customer has picked their vehicle, they agree a maximum annual mileage with the dealer as well as the length of the agreement (two to five years) and then pay a fixed monthly amount which suits their budget. At the end of the agreement they return the car to the dealer.

"Road tax is included and customers can also opt for a maintenance package add-on, which means all they have to worry about are the fuel and insurance costs. Another attraction for business customers is that they can claim back 100 per cent VAT if the vehicle is solely used for work.

"We have had a relationship with Suzuki GB PLC since 1996 which is built on mutual trust and satisfaction, so I am of course delighted to be working with them closely on this new product."

Other product benefits also include:
Fixed cost motoring
Road Fund Licence included throughout the customer contract
Maintenance and service options available
Competitive pricing
Flexible rental and mileage packages
No end-of-Contract disposal concerns

Examples of PCH are Swift SZ3 1.3 DDiS at £143 per month including VAT and SX4 1.6 SZ5 4X4 at £172 per month including VAT.

For more information on the Suzuki product range, visit suzuki.co.uk/cars.